YPF announces discovery of huge unconventional shale oil deposits in Mendoza
Friday, March 30th 2012 - 07:31 UTC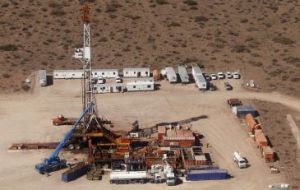 Argentina's biggest energy company YPF, has found unconventional shale oil and natural gas in Mendoza province, confirming the extension of the massive Vaca Muerta area, officials said on Thursday.
YPF, which is controlled by Spain's Repsol said exploration at the Payun Oeste and Valle del Rio Grande blocks pointed to an estimated one billion barrels of oil equivalent (boe) in unconventional oil and gas in Mendoza.
Energy resources and reserves in the province, which borders the Andes mountain range in western Argentina, currently stand at 685 million boe.
"The results are very encouraging. They tell us these are horizontal wells similar to what is done in the United States, we can replicate the US model in Mendoza province" Tomas Garcia Blanco, head of YPF's exploration and production, told reporters gathered in Malargue, Mendoza.
Horizontal wells permit access to rocky areas where oil and gas could not be extracted with conventional vertical drilling. US energy production has surged thanks to this technology.
The announcement comes when YPF is under mounting pressure from President Cristina Fernandez and provincial governors to boost declining production to help ease the country's energy import burden.
Thursday's announcement follows the decision by six provinces including Mendoza to revoke operating licenses granted to YPF on the grounds of slack investment.
Officials have also accused YPF of overcharging for fuel and the country's CNV securities regulator said on Thursday it was investigating "unusual" prices and volumes in YPF share deals.
The Spanish owned company says its investment in Argentina rose 50% in 2011, with most of the cash channelled into upstream including exploration projects like those that led to the huge Vaca Muerta shale find, which could double Argentina's energy output.
The shale find in Mendoza province "increases the potential of the Vaca Muerta formation," YPF said in a statement.
The company, which produced about 35% of all the oil extracted in Argentina last year, holds concessions on roughly 40% of Vaca Muerta and says huge investment will be needed to develop it.