"Falklands have a right to self determination and to be British", no blockade is going to change that
Saturday, March 31st 2012 - 06:43 UTC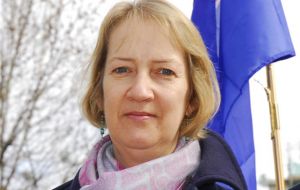 Argentina's ever more aggressive rhetoric challenging the Falkland Islands sovereignty underlines the significance of the right to self determination, said Sukey Cameron the Falklands' elected government representative in London.
"Here and now we are talking of 3.000 people that have the right to self-determination, enshrined in the UN charter and who want to continue being British" pointed out Ms Cameron.
"It's very important to remember that thirty years ago there was a war, won by the UK and it was fought to ensure the Falkland Islanders right to determine their future, and that right has not been debilitated as it wasn't in 1982. I'd go further and say that the concept of self determination is even stronger and our stance better understood in the rest of the world" said Sukey Cameron interviewed in London by Spanish and Italian news agencies.
The Falklands elected government representative said that the support for Argentina from Mercosur members and the decision to bar Falklands' flagged vessels "does not complicate things but, yes it makes the situation more difficult".
However insisted Sukey, it is also evidence of how far Argentina is prepared to go to make things difficult for the Islanders "threatening with economic blockades, associating its partners and neighbours with these issues. Nevertheless it is interesting to see how Argentina presents the case to its neighbours since we are not talking of a colonialist Britain that conquered a territory against the will of its people".
"Here and now we are talking of 3.000 people that have the right to self-determination and who want to continue being British. Argentina is presenting the case to other Latin American countries in a most murky and distorted way, entirely ignoring the fact that there is a population in the Islands that want their version to be listened to", pointed out Sukey Cameron.
Because reality is very different, "we are not ruled by the UK we have our own elected government which runs all affairs with the exception of foreign affairs and defence (obvious). The Islands are self sufficient, well managed and Islanders are peaceful, hard working and resilient".
What we are witnessing now is nothing new, "Argentina has always appealed to the Falklands, "Malvinas" as an excuse; if we look at recent history and each time Argentina has rattled about the sovereignty of the Falklands it has always been when the economic situation is very bad. Unfortunately Falklands is an issue that keeps uniting the majority of the population and manages support. Whenever an Argentine president wants an audience to applaud and follow him, then all he has to do is talk strongly about the Falklands or take actions against the Islands population as is the current blockade"
"All we are asking for is that they leave us in peace to choose our own future, the future of our children and of future generations. It's a pity that thirty years after the end of hostilities, there are some in Argentina and in other places that keep looking back to the past", said Sukey.
"This is not a colony, this is an Overseas Territory, with all the right in the world to self determination", the essence of democracy and human rights. "No blockade or aggressive campaign full of distorted facts are going to change our mind, on the contrary it makes us more resilient and more distant from Argentina".