Euro-zone builds firewall but calls for bigger global financial emergency fund
Sunday, April 1st 2012 - 08:24 UTC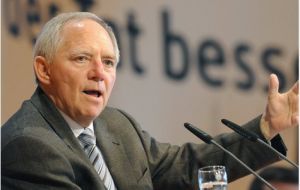 European governments called for a bigger global financial emergency fund after engineering a firewall to fight the region's debt crisis that tops the symbolic 1 trillion dollars mark.
Euro-area finance ministers decided last week that 500 billion Euros (667bn dollars) in fresh money would go along with 300 billion Euros already committed to create an 800 billion-Euro defense against the two-year-old turmoil.
Europe is counting on those sums, plus the European Central Bank's extra lending and bond-buying programs, to demonstrate that it is on the road back to stability and encourage Group of 20 economies to bulk up the IMF anti- crisis coffers at an April 19-20 meeting.
"Europe is aware of its responsibility for the international economy," German Finance Minister Wolfgang Schaeuble told reporters after a two-day meeting of European finance officials in Copenhagen. "If the IMF takes precautions to prevent possible contagion or threats to the world economy, then Europe for its part will make a decisive contribution."
While welcomed by European central bankers, the firewall decision stopped short of a bolder step mooted before the meeting as a German-led coalition of creditor countries rebelled against imposing further burdens on bailout-weary taxpayers.
European officials wheeled out a variety of numbers -- including bilateral loans to Greece in 2010, loans from a now- defunct centrally managed fund and the ECB 1 trillion-Euro cash infusion to banks -- to rebut international criticism of Europe's response to the crisis.
Finance ministers also agreed to get the European Stability Mechanism, ESM, up to full capacity by mid-2014, two years earlier than planned. Governments will pay in two installments of capital this year, two more in 2013 and the final tranche in the first half of 2014.
In a statement in Washington, IMF Managing Director Christine Lagarde said Europe's upgraded strategy will "support the IMF efforts to increase its available resources for the benefit of all our members".
I welcome the decision of Euro Area Ministers to strengthen the European firewall. The IMF has long emphasized that enhanced European and global firewalls, together with the implementation of strong policy frameworks, are critical for ending the crisis and securing international financial stability," she said.
"The combination of the ESM and the EFSF, along with other recent European efforts, will strengthen the European firewall and support the IMF efforts to increase its available resources for the benefit of all our members," she added.
Euro-region national central banks plan to steer 150 billion Euros to the IMF as a down-payment toward other countries chipping in. That sum was left out of Europe's firewall calculation because it would be managed by the global powers that run the Washington-based IMF.
An IMF boost is "not for Europe, it's not a specific fund or specific account for Europe," ECB Vice President Vitor Constancio said. "It is recognition that in general for the world economy the IMF needs to have more resources."
Much of the credit for the lessening of European market tensions goes to the ECB's unprecedented three-year loans to banks since December. Ten-year bond yields in Spain, for example, have fallen to 5.35% from 6.70% on Nov. 25.