Former RN officer tells how the sinking of the Belgrano was coordinated
Monday, April 2nd 2012 - 18:52 UTC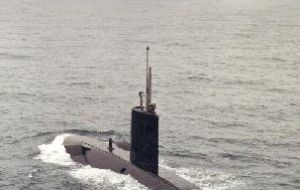 On the 30th anniversary of the South Atlantic conflict, the member of the Royal Navy who was responsible for coordinating the attack on the Argentina Navy cruiser "General Belgrano" spoke to UK-based newspaper "The News," in Portsmouth and explained the steps that led up to the attack that caused 323 deaths and why it was justified at the time.
The attack on the ARA Belgrano was "the right thing to do and I believe it saved more lives being lost because their ships never came out again," Vice-Admiral Sir Tim McClement stated.
Sir McClement was the second-in-charge of sending the "HMS Conqueror," the submarine that shot the torpedoes at the 'Belgrano,' consequently sinking the Argentine ship on May 2, 1982, in what constituted as the most controversial part of the conflict between the United Kingdom and Argentina over the sovereignty of the Islands in the South Atlantic.
The former navy admiral explained that when they were on route to the Falklands, they had no idea whether an attack of that nature was going to be carried out or not.
"All the way down we didn't know if we were going to war or not because the peace negotiations were going on," said Sir Tim. He furthered that, "My job as second-in-command was to make sure everyone was trained up for whatever the captain wanted them to do."
Following this, McClement was told that the ARA Belgrano was outside the 200-mile exclusion zone and that their rules of engagement were that they were not allowed to make any moves. This was until the disputed waters were breached, and they were given the ok to attack.
"The captain got me in. I sat there and he said "I've got the signal. It says sink the Belgrano," McClement stated. "I think I was relieved. It felt like a logical thing to do," he went on to say.
In addition, he said that "It was a Second World War ship, so it made perfect sense".
Although justified and carried out, the former Navy admiral did, however acknowledge that the attack "had a very aggressive psychological impact on the Argentines".