Unasur delivers statement supporting Argentina's Falklands claim to Ban-ki-moon
Monday, April 2nd 2012 - 22:46 UTC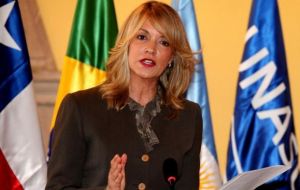 Unasur Secretary General Maria Emma Mejia met on Monday with UN Secretary General Ban Ki-moon and delivered a statement from the twelve countries of the region in support of Argentina's sovereignty claim over the Malvinas Islands.
The symbolic gesture from the Union of South American Nations coincides with the 30th anniversary of the beginning of the war between Argentina and Britain, when Argentine forces invaded the Falklands 2 April, and also with a strong diplomatic offensive from the government of President Cristina Fernandez to try and convince the UK to discuss the issue of the Islands sovereignty following on UN resolutions.
According to an official release from the organization, Mejia and ambassador Jose Antonio Dos Santos from Paraguay delivered the "latest declaration approved by Unasur Foreign Affairs ministers during their March 17 meeting referred to the Malvinas issue".
The text which was signed by Unasur Foreign ministers during their meeting in Asuncion, Paraguay, calls on the UK to begin discussions with Argentina "with the purpose of ending, on the shortest time possible, the sovereignty dispute and what it describes as an "anachronic colonial situation in American soil".
The declaration also recalls UN resolutions on the matter and "the wide international support for negotiations".
This is a further step in the Argentine diplomatic advance over the Falklands which last December saw Mercosur agree to bar all Falklands' flagged vessels from regional ports; Peru's latest decision to turn back the visit of a British frigate and the Ecuadorian president proposal to slap sanctions on the UK.
On 2 April 1982 the Argentine military dictatorship invaded the Falklands but 74 days later, June 14, surrendered unconditionally to a British task force sent to recover them. The loss of lives totalled almost a thousand: 649 Argentines, 255 British and 3 civilian residents from the Islands.
Since then Argentina has been claiming the South Atlantic Islands through diplomatic channels, but the UK has consistently argued that the Islands will remain under British sovereignty as long as the Islanders so wish to, based on their right to self determination enshrined in the UN charter.