Argentina denies plan to acquire stake in YPF but provinces continue to rescind concessions
Thursday, April 5th 2012 - 15:41 UTC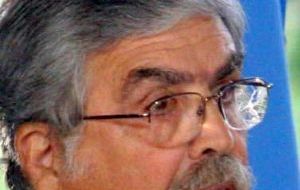 Argentina's Planning Minister Julio de Vido denied a report by Buenos Aires newspaper Clarin that the government is working on a plan to use state-controlled pensions Anses to buy a stake in oil corporation YPF, he said in a statement.
The Argentine government of President Cristina Fernandez nationalized its pension industry in 2008.
"Federal Planning Minister Julio De Vido affirms he received no proposal regarding the issue nor has he met for that purpose with Chubut governor Martin Buzzi of with the head of Anses Diego Bossio, nor jointly nor personally", points out the release.
The statement refers to Clarin front page saying that "the Argentine government would resort to 4 billion dollars from Anses resources. This is the plan Chubut Governor Buzzi discussed with Minister De Vido and Anses head Bossio".
The statement however did not impede the Argentine government strategy of advancing on Spain's Repsol-YPF to continue. On Wednesday Río Negro Governor Alberto Weretilnek announced the termination of a Repsol-YPF concession contract for the Ñirihuau area, located 35 kilometres from the city of Bariloche. This is the second license the Patagonian province terminates in the past two weeks.
Werentilnek explained that the measure will be implemented as of Thursday and recalled that Repsol-YPF "had promised to invest 17 million dollars in the area when the license was awarded back in 2008."
The contract was signed during the administration of the former governor Miguel Saiz.
Speaking to a local news agency, Werentilnek said the decision was taken as the oil giant "failed" to invest the sum agreed in the 2008 contract under the government of Saiz, and also in order to "respect for the environmental health of the city of Bariloche."
Last month, Río Negro had cancelled another license that Repsol-YPF had in the Patagonian province to exploit Los Caldenes area.
On Monday Chubut governor Buzzi informed Repsol-YPF it was revoking its Manantiales Behr field, which produced about 10% of the company's last year.
Chubut also announced it is seeking new investors for the fields it confiscated and next April 10 will invite private investors to join the new undertakings with the provincial government.
Meanwhile Santa Cruz province in the extreme south of Argentina described as "irreversible" the decision to terminate other concessions particularly the rich deposits of Los Perales.
To compensate the fall of investments between 2006 and 2011, "YPF would have to invest a billion dollars which I doubt they will, since so far they have not renewed the concession contract which expires in 2015, said Peralta adding that Los Perales produced 1.35 million cubic meters in 2006 but is now down to 693.000 cubic meters.
Spanish-Argentine energy group Repsol-YPF has lost 12 concessions in five provinces, including Neuquen, in the past few weeks.