Colombia "rolls up to show a leg" to honour thousands of anti-personnel mines victims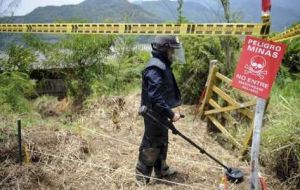 Colombia, only second to Afghanistan as to the country most punished by antipersonnel mines held several ceremonies on Wednesday to remember and honour its 9.755 victims of which 2.044 have died.
In different cities of the country ravaged by guerrilla warfare, the International Day of Mine awareness ceremonies was attended by government and military officials as well as the survivors of these non conventional weapons.
Several weeks ahead of the Wednesday mines awareness day a campaign was launched inviting citizens to "lend your leg; roll up", in a gesture to mark solidarity with so many victims that have lost a limb.
The Colombia Executive Antipersonnel mines integral action program, Paicma, together with the private group of Archangels organized rallies in the capital Bogota with street artists acting and painting walls and streets to pay homage to the thousands of victims.
Last Sunday two marathons were organized in Bogota with the participation of President Juan Manuel Santos and many of the recovered victims with prosthetic limbs.
In Cartagena, the commemoration involved the Colombian Navy and First Lady Clemencia Santos in a special ceremony with the Navy's training clipper 'Gloria' and the cadets displayed on the different masts with one of their uniform legs rolled up. The main sail of the vessel also showed one of the images of the campaign: a prosthetic lower limb with the trouser rolled up.
According to official Colombian data from 1990 to 31 March 2012, the number of victims from antipersonnel mines and unexploded ordnance climbed to 9.755, of which 38% (3.693) are civilians and 62% (6.062) the security forces.
The number of minors killed and injured by antipersonnel mines totals 950 of which 208 died. In 2009 the number of Colombian victims of the deadly mines was 777, only second to Afghanistan's 992.
The Revolutionary Armed Forces of Colombia, FARC, fighting the government for over four decades together with the National Liberation Army, ELN, both originally of Marxist inspiration but for some time now fully dedicated to the drugs business are the main organizations responsible for planting the anti personnel mines to protect their areas of influence.
Colombia which has 10% of the world's active mines planted in its territory, in 2001 ratified the Ottawa convention which bans anti personnel mines, but has been unable to clear them because FARC continues to use them indiscriminately.