Russian yacht that went missing is en route to South American continent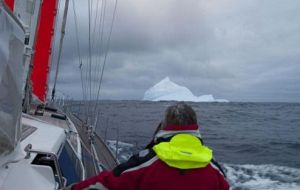 Russian-Ukrainian yacht Scorpius is sailing to a refuelling stop in southern Argentina after thick ice prevented it from taking on fuel at a coastal Russian outpost in Antarctica.
Russian-Ukrainian sailing crew of Scorpius yacht that went missing off the Antarctic coast while performing a polar circumnavigation voyage is alive, Canada.com reported this weekend.
On Sunday it was reported that the Scorpius crew performing a double round trip around the North and the South Pole did not make contacts.
"They contacted us with an email last night. The ice conditions were very severe, and currently they are going toward the mainland because they are running out of fuel and other supplies," the expedition's spokeswoman Anna Subbotina said.
According to Subbotina, nobody has been hurt, crew is in good health and team is in good spirit.
"They are forcing their way through the ice, travelling very slowly. They are not asking for help," she added.
Captain of the 29-meter yacht Sergei Nizovtsev explained that the boat got into ice and because of strong head wind they are able to make only 15-20 miles per day. The captain was hoping to reach the Russian Antarctic Bellingshausen station sometime during the weekend, but apparently was unable and thus the decision to continue north.
The Scorpius left the Black Sea port of Sevastopol in September last year for a voyage around the South and the North Pole. The team's crew comprises four Russians and four Ukrainians. The voyage is planned to be concluded in early 2014.