Thirty years after the war, Falklands under siege by a volatile Argentina
Monday, April 9th 2012 - 22:38 UTC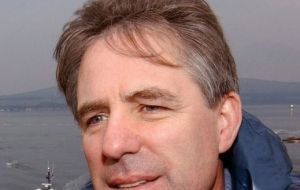 A book published this week in Britain takes an in-depth look at the Falkland Islands 30 years on from the short but deadly conflict of 1982. "Fortress Falklands – Life Under Siege in Britain's Last Outpost", is written by journalist Graham Bound. Although normally resident in the United Kingdom, Bound is an Islander, and he returned to the Falklands to report on a situation that he says is more volatile and dangerous than it has been at any time since 1982.
"This is essentially a travelogue, and it is written in my voice," he told MercoPress. "There is a little of my early life in the Falklands in the story, but it is mainly based on interviews with both with those whom I have known for many years, and those who have come to the Islands recently. I found a community that is remarkably enterprising, enjoys a high degree of self-government and is confident of its rights. But Islanders are alarmed by the degree of hostility directed at them from Buenos Aires. Clearly, they are under a trade and shipping blockade, and are increasingly isolated.
The book reveals that there are bold plans to develop an alternative air link with the United States if Argentina carries out its threat to cut the link with Chile, which must traverse Argentine air space.
"I found no sign that Islanders are prepared to cave in to the pressure from Argentina," said the author. "In fact there was an attitude of grim resignation among most people. I was reminded constantly that life in the Falklands has never been easy, and if the Argentines planned further harmful moves, then they should just 'bring it on'. One community leader said to me, with some humour, 'It must be boring to live in a country that doesn't have a neighbour who's trying to throttle you.'"
He continued: "Despite the Argentine threat, Islanders may be facing almost unimaginably wealth if the oil that was found recently is exploited, as is planned, five or six years from now. Almost every Islander wants to see this, but several senior officials told me that there was concern that income to the island measured in billions might be as damaging as it is beneficial. 'Would we want to have a population growing fat and relying on hand-outs?', said one. Nevertheless, serious thought is being given to developing a sovereign wealth fund, probably styled on that of Norway that might vie with similar Middle Eastern funds to buy assets around the world.
The author originally intended to examine only the military situation in the South Atlantic, but he said he found that the story of development, a changing society and the intense Argentine diplomatic campaign was equally important. The book contends, however, that it would be foolish to assume that no military threat remains.
"I felt that too many officials and academics on both sides were dismissing the risk of an eventual 'round two' of the Falklands War," said Bound. "Argentine forces would certainly not be able to attack in the short term, but if the bellicose talk from President Cristina Fernandez de Kirchner continues, and if plans to modernise the Argentine armed forces materialise, then another conflict is possible. In the book, I mention Islanders who were genuinely worried about the risk of another invasion if the British deterrent is ever reduced. But with the deployment of a powerful new Type 45 air defence destroyer, this does not seem likely for the time being. At the very least we can expect the Falklands to be at the centre of another decade of angry controversy."
So far, the book is published only in English in Britain, but Graham Bound said he would like to find a publisher in South America. "The issue of the Falklands is important to ordinary people in Argentina, in Uruguay and Chile. I think they would find this portrait of the Islands and the Islanders today helpful. They deserve to understand the people who are at the heart of the continent's most persistent dispute."
"Fortress Falklands – Life Under Siege in Britain's Last Outpost" is published in the United Kingdom by Pen and Sword books. (www.pen-and-sword.co.uk/Fortress-Falklands/p/3404/), from where it can be ordered. It is also sold online by Amazon.