Argentine factory begins production of Pampa training aircraft with German help
Tuesday, April 10th 2012 - 05:12 UTC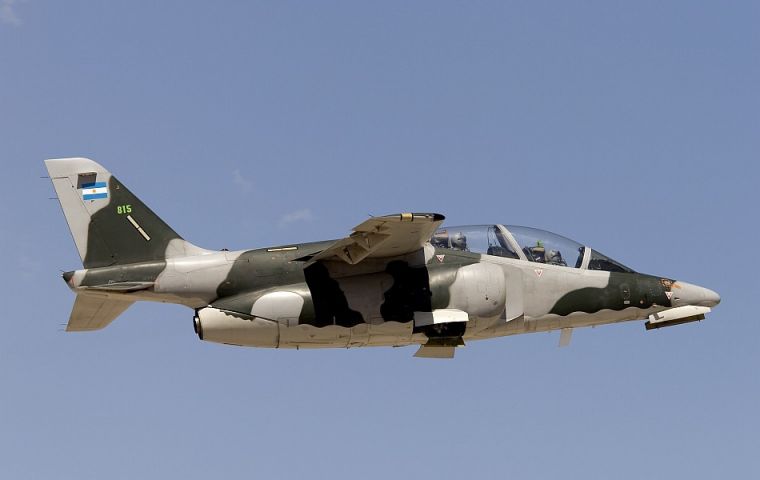 Argentina's government controlled Aircraft Factory, Fadea, plans a production of 100 Pampa II training and combat aircraft at its plant in Cordoba in association with the German company Grob Aircraft AG, it was announced.
"The Pampa aircraft will have several pieces of its update version supplied by the German factory" said Raul Argañaraz, Fadea president who added this will help 'greater exposure overseas'.
"Fadea will not be working on its own, but from now on we will work in the framework of cooperation agreements as the one we have signed" added Argañaraz.
The company has a main plant in Cordoba with 120 workers and technicians with the first objective of 100 units, or one per month beginning 2013.
"This will enable us to commercialize the Pampa with its new engine, improving the factory's productivity and a leap forward in the international market", said Argañaraz.
With the new (US Honeywell) engine the Pampa will have greater power and will also help optimize the maintenance of the aircraft.
John Alp from Grob Aircraft AG praised the Pampa conditions and said the agreement was very encouraging for this company and for Fadea.
The project includes the construction of 60 advanced training and attack IA-63 Pampa II plus another 40 of the older version, in a timetable of four to five years depending on demand.
Besides 40 already earmarked for the Argentine Air Force as was announced a year ago by Defence minister Arturo Puricelli, some of the training units will be going to Germany and the rest hopefully exported.
Although no price for each aircraft was supplied, according to the Cordoba press, depending on the number and model requested, each aircraft is valued between 9 and 12 million dollars.
The FMA IA 63 Pampa is described as an advanced trainer aircraft with combat capability, produced originally with assistance from Dornier, Germany. Although influenced by the Dassault/Dornier Alpha Jet design, the Pampa differs in being a smaller aircraft plus it is single-engined and has straight supercritical wings rather than the swept ones of the Alpha Jet. It is constructed mainly of aluminum alloy, with carbon-fibre used for components such as the air intakes.
The crew of two sits in Tandem under a single piece clamshell canopy. The avionics systems are also simpler than the Franco-German aircraft, which has an important secondary combat role. The Pampa prototype first flew on 6 October 1984