Bernanke says more bank regulation is needed to ensure stable financial system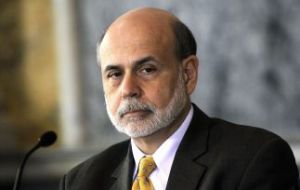 US Federal Reserve Chairman Ben Bernanke said banks need to have more capital at hand in order to ensure the financial system is stable. Bernanke said regulators were taking steps to force financial institutions to hold higher capital buffers, even if they allow for a long period of implementation to prevent any market disruptions.
"We need to have higher capital, and that's what Basel III does," he said in response to questions at an Atlanta Fed conference, referring to the latest international effort to tighten bank oversight. "That's essential for a stable financial system."
Bernanke made the comments the same day that an international bank lobby group, the Institute of International Finance, urged policymakers to pause in regulating the industry.
Toughened capital standards, new liquidity requirements and rules that limit activities all restrict banks' ability to provide businesses and households with the credit needed to lift economic growth, the IIF said in a letter to central bankers and finance ministers.
In his prepared remarks, Bernanke said the US economy has yet to fully recover from the effects of the financial crisis, and regulators must continue to find new ways to strengthen the banking system.
"Financial stability policy has taken on greater prominence and is now generally considered to stand on an equal footing with monetary policy as a critical responsibility of central banks," he said.
Bernanke said recent bank stress tests will become a regular feature of the supervisory landscape, and for that reason the latest round of tests is being reviewed to identify possible areas of improvement in "execution and communication."
He reiterated a worry that he and other top policymakers have expressed about the continued vulnerability of money market funds.
"Additional steps to increase the resiliency of money market funds are important for the overall stability of our financial system and warrant serious consideration," Bernanke said.
"The risk of runs ... remains a concern particularly since some of the tools that policymakers employed to stem the runs during the crisis are no longer available."