Colombia anticipates no Falklands mention in the Americas summit final statement
Wednesday, April 11th 2012 - 02:03 UTC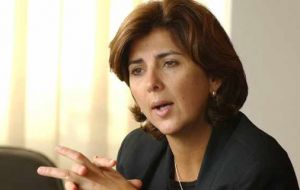 The coming 6th Summit of the Americas will not include in its final statement the issue of the Falkland/Malvinas Islands, the sovereignty of which is in dispute between Argentina and the UK.
This however will not impede discussions on the issue, said Maria Angela Holguin, Foreign Affairs of Colombia, the country hosting the gathering of leaders from 33 nations of the Americas and Caribbean.
"There is a lack of consensus on the Malvinas issue", admitted Minister Holguin. However she said the issue will be addressed in the discussions, as well as the issue related to the fight against drugs, both of which will not make it to the final document.
"Most probably the final declaration will not have a single word referred to controversial issues such as drugs, Cuba or Malvinas, as many have speculated. Each word, each paragraph, each syllable must be achieved on full consensus", said Holguin.
Nevertheless she admitted that Colombia expects Cartagena to signal the launching of a great world debate. The issue is scheduled to be addressed Saturday afternoon during a private meeting with only the presence of the summit's presidents.
More specifically on the Falklands/Malvinas issue, Holguin said it was "a bilateral issue" between Argentina and the UK, and called for a dialogue between the parties involved, while the war against drugs "is a matter of concern to all"
Ms Holguin also revealed that Venezuela's President Hugo Chávez will attend the Summit in Colombia. However, he is likely to stay just a few hours in Cartagena, while US President Barack Obama will arrive on Friday, a day before the two-day presidential meeting, April 14/15.
"We have information that President Chávez is attending the Summit. It is very unlikely that the president will stay overnight in Cartagena... It is very complicated because of the treatment he is undergoing. In any case, his attendance has been confirmed," she underlined.
The Venezuelan leader is under treatment for cancer and is currently in Cuba for special radiation sessions.
The first president to arrive in Colombia will be Chile's Sebastian Piñera scheduled for Wednesday. The only absence confirmed is that of Ecuador's president Rafael Correa who said he won't attend any other summit which excludes Cuba.
Argentina and Brazil also made a joint statement in support of Cuba but Washington has insisted the summit is for all those countries members of the Organization of American States, which Cuba was invited to join in 2009 (almost half a century since her expulsion from the regional organization), but so far has refused.
Ms Holguin said that Bolivian president Evo Morales will close the so-called social forum, which is also expected to be attended by the US Secretary of State Hillary Clinton.
The Social Summit is the first official activity taking place prior to the meeting of heads of State and Government at the Sixth Summit of the Americas, to be held between April 14 and 15.