Petrobras and Argentine government reach tentative agreement to increase investments
Wednesday, April 11th 2012 - 06:33 UTC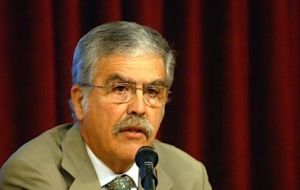 The escalade between the Argentine government and the oil companies seems to have cooled off for a few hours on Tuesday following a meeting of Planning Minister Julio De Vido with top officials from Petrobras Argentina, and which was described as 'productive'.
Minister Julio De Vido informed the heads of Petrobras branch in Argentina that it was essential to raise investments in the country and warned them that the main aim is that Argentina reaches the "self-sufficiency in energy."
De Vido received the authorities of the Brazilian oil company and together with Neuquén province officials analyzed the different options to boost oil and gas production in the province.
During the meeting the minister explained Petrobras authorities the basis of the agreement reached in February between the Argentine provinces which are part of the State's Federal Organization of Hydrocarbon Producers (OFEPHI) and the National Government.
This agreement promotes the complete production of the gas and oil fields and the recovery of self-sufficiency in energy, the minister highlighted before the Petrobras businessmen.
De Vido and Petrobras Argentina officials agreed to work on the development of the investment projects in Argentina to be considered in a meeting that De Vido will hold on April 20 in Brasilia with the head of the company, María Das Graças Forster.
Last week Neuquen Governor Jorge Sapag announced the termination of Petrobras 'Veta Escondida' exploitation concession, after "proving that the area remains with no proven production or reserves and with insufficient investment".
Petrobras in a communiqué said it has complied with all contractual requirements signed three and a half years ago. "The exploration and exploitation contract, which was agreed upon by the Executive branch on December 10th 2008 and is valid until 2027 remains in force".
"We hold 55% of the concession and we carried out investments according to the search for hydrocarbon, amounting to a total of 10 million dollars in the last three years. Additionally, the company has began efforts in the search of non conventional hydrocarbons in the area, aided by new technologies", said Petrobras release.