US and EU considering WTO actions against Argentine 'protectionist practices'
Wednesday, April 11th 2012 - 17:04 UTC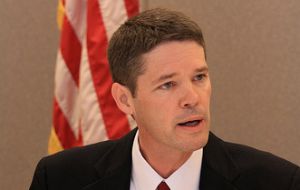 The US and forty countries which formalized a joint statement before the World Trade Organization complaining about Argentina's trade restrictions are considering moving a step further and begin a "disputes settlement" process which could lead to an open condemnation if the administration of President Cristina Kirchner does not lift the protectionist network.
According to Buenos Aires daily Clarin quoting WTO sources in Geneva, "expectations are that it will be the US that presents the "disputes settlement" process since the White House was the main sponsor of the joint statement. The process could end with a formal condemnation of Argentina opening the way for commercial reprisals".
In the March joint statement presented by the US and forty other leading countries the main complaints against Argentina included the non automatic licences system; the previous sworn statement registry to obtain the approval of an imports operation and the policy forcing companies to apply the 'dollar-to-dollar' mechanism which means they have to export a dollar for each dollar import.
Once the disputes settlement begins there is a period of consultations in which in this case Argentina must prove it has not infringed WTO rules, and if no agreement is reached a three member panel is named, chosen by the litigants or WTO Director General Pascal Lamy.
The panel has 180 days to reach a decision which can be appealed, but if at the end of the whole process it is contrary to Argentina, the countries which initiated the action can adopt commercial reprisals.
The joint statement was originally presented by US ambassador Michael Punke and sponsored by all EU members, Australia, Israel, Japan, Korea, Mexico, New Zealand, Norway, Panama, Switzerland, Taiwan, Thailand and Turkey. The initiative was later joined by Chile, Colombia, Peru, China, Hong Kong and Malaysia. However no Mercosur member figures in the list.
The joint statement concludes saying that "despite the concerns described, Argentina continues to maintain these import-restrictive measures and practices, Argentina should provide a detailed written explanation of why in its view these measures and practices are consistent with WTO rules. Members reserve their rights to pursue this matter further".