Judge denies injunction to bar Chevron from operating in Brazil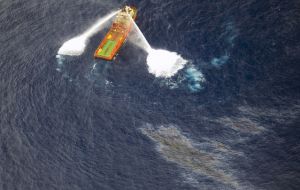 Brazilian judge denied an injunction seeking to bar oil company Chevron Corp and drill-rig operator Transocean Ltd from operating in Brazil after two offshore oil leaks, a federal court in Rio de Janeiro said this week.
Judge, Guilherme Diefenthaeler of the appellate division of the Second Region Federal Court, ruled that granting the injunction would interfere with the legal authority of the ANP, Brazil's oil regulator, to manage the oil industry and would be an improper judicial intrusion into public administration.
The ruling was made on an appeal by a federal prosecutor who had his initial request to issue the injunction banning Chevron and Transocean denied by a lower court.
The prosecutor had also sought to prevent Chevron or Transocean from transporting oil in Brazil and to ban the movement of their equipment out of the country. The injunction would have imposed penalties of 500 million reais (273 million dollars) a day for failure to comply.
The same federal prosecutor, Eduardo Santos de Oliveira, has launched two 20 billion Reais (11 billion dollars) civil lawsuits against the companies and has filed criminal charges against 17 Chevron and Transocean employees that carry jail terms of up to 31 years.
The lawsuits are related to an offshore spill of approximately 3.000 barrels in the Chevron-operated Frade field northeast of Rio de Janeiro in November.
A leak in March of about two barrels led to a complete shutdown of operations in the area so that Chevron, its drilling contractor Transocean, and Chevron's partners in Frade could study geological conditions that may have contributed to the November spill.
Chevron and Transocean deny any wrongdoing in the leaks.
"We welcome the judge's ruling to deny the injunction sought by the prosecutor," Transocean said in a statement. "We will continue to vigorously defend our company, our people, our reputation and our quality of services."
Chevron said it is "pleased" with the decision and that the leaks caused "no discernable environmental impact to marine life or human health." The company said it "acted diligently and appropriately and in accordance with best practices in the oil industry."
Chevron owns 52% of the Frade field, Brazil's state-led oil company Petrobras owns 30% and a Japanese group led by Inpex Corp and Sojitz Corp owns 18%.
On Monday, Chevron said it found a leak in the Roncador field owned and operated by Petrobras. The field, Brazil's No.2 producing field, is adjacent to Frade and produces 284,000 barrels of oil and natural gas equivalent a day.
That's more than four times the 62,500 barrels a day Frade was producing before it was shut down and more than 10% of Brazil's total output of 2.63 million barrels a day.
Petrobras said on Wednesday that tiny droplets of oil seeping from the sea floor in the Roncador area, adjacent to Frade, were not from any of its producing reservoirs or from any known oil field in the Campos Basin, the source of about 80% of Brazil's petroleum output.
When tested, the liquid showed characteristics of drilling fluid, a paraffin-based petroleum product used to drill oil wells, Petrobras said. ANP said its tests of the oil also indicated that it did not come from the Campos basin and appeared to be a drilling fluid.