'K' Day for the future of YPF; shares in Buenos Aires and New York plunge
Thursday, April 12th 2012 - 00:56 UTC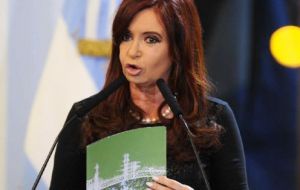 Shares in Argentina's biggest energy company YPF plunged 5.6% in Buenos Aires on Wednesday while the company's US-listed shares were 5% lower in New York.
Meanwhile Santa Cruz governor Daniel Peralta signed a decree which makes official the termination of the YPF concession contract in Los Perales-Las Mesetas, Cañadon vasco and Pico Truncado-El cordón areas.
The decision was announced as Repsol YPF head Antonio Brufau remains in Argentina in hopes of solving the conflict and meeting with Government officials.
The decree will have to be ratified by the Santa Cruz lawmakers and the provincial Energy Institute was urged to "carry out all the necessary tasks to make sure the transfer of the concessions is done in an orderly way." Los Perales-Las Mesetas represents 11% of Argentina's oil reserves.
The reasons behind the termination of YPF contracts were explained by Santa Cruz' Energy Institute head Juan Antonio Ferreiro. He assured that the oil giant showed a lack of investment during six years.
The company presented a last minute investment plan but Daniel Peralta's administration had already rejected the possibility of a satisfying plan. "There will be no chances of YPF presenting and investment plan that has at the very least a six year delay."
YPF released a communiqué shortly before the company was due to present a new investment plan, stating that "YPF presented an investment plan for the 2012-2017 time period in eleven areas, which represent a total amount of 4.36 billion dollars, with 2249 new oil wells, and 2264 stopovers, thus ratifying the company's investment program and confidence in Argentina.
Faced with a soaring energy bill, almost 11 billion dollars last year, the administration of President Cristina Fernandez has targeted companies with production concessions, which allegedly have not met contractual output and investment objectives, and has said the goal is recovering Argentina's energy self sufficiency.
Companies argue they have kept their share of the deals but complained that investments were conditioned by the fact the government of president Cristina Fernandez froze for several years the price of oil barrel extracted in the country.
In effect a whole system of subsidies to public transport and cheap energy for households and industry pushed demand while supply remained virtually stagnant.