Chavez cancels summit's plan and flies to Cuba on a 90 day leave for treatment
Saturday, April 14th 2012 - 22:34 UTC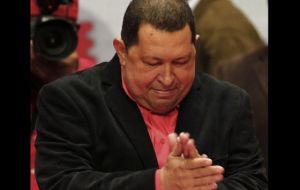 Venezuela's President Hugo Chavez will not attend this weekend's hemispheric summit in Colombia and will instead fly straight to Cuba to continue radiation treatment for cancer, his foreign minister said on Saturday.
The 57-year-old populist leader said on Friday the radiation therapy was physically tiring and that his doctors were evaluating whether he should go to the "Summit of the Americas" en route to Havana for a fourth session.
"On the recommendation of his medical team, President Chavez decided not to attend this event," Venezuela's Foreign Minister Nicolas Maduro told reporters in Cartagena at the meeting of about 30 heads of state, including US President Barack Obama.
"Today he leaves for Havana to continue to his treatment, which is going excellently," Maduro said.
Chavez said on Friday he planned to stay in Cuba longer than on his recent trips to complete his radiation treatment of five sessions. On Saturday, Venezuela's National Assembly legislature authorized him to leave the country for up to 90 days.
An appearance at the summit would have been a show of strength for Chavez, who has undergone three cancer operations in less than a year. Very little official information has been given about his health, including what type of cancer he has.
Despite his cancer, Chavez is campaigning hard to win a new six-year term at an October 7 election that is shaping up to be the toughest political fight of his 13 years in power due to his ill health and a serious opposition challenge.
His opponents have criticized Chavez for seeking treatment in Cuba, his main ally, instead of Venezuela, and for keeping Venezuelans in the dark about the extent of his illness, raising suspicions that his cancer may have spread.
In effect Doctor Jose Rafael Marquina who lives in Florida and is a professor at the Nova University and consultant for several Venezuelan intensive care clinics recently said in an interview that Chavez has a cancerous tumour which has extended to three metastasis, in the liver, suprarenal glands, retroperitoneal space and the bladder
Marquina said his information is first hand from specialists working close to the president several of whom he went to school with.