Obama and CFK leave trade issues aside and want to continue as 'friends and partners'
Sunday, April 15th 2012 - 04:34 UTC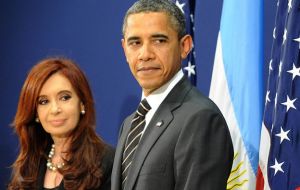 President Cristina Fernández and US President Barack Obama agreed to work upon trade differences "which in no way conform the central aspects of the bilateral relationship" during their Saturday afternoon half hour meeting with an "open agenda" at the 6th Summit of the Americas hosted by Colombia.

After the bilateral meeting on the sides of the summit, Argentine Foreign Minister Héctor Timerman and presidential spokesman Alfredo Scoccimarro said that both Heads of State agreed on the fact that the trade relation must be handled by experts and that any existing differences will be worked upon.

"Even if differences may exist, they in no way will be the centre of the bilateral relationship. Other matters, including international terrorism, scientific endeavours and the environment are more important," the government officials assured.

The meeting which was requested last Thursday by US officials was attended by Secretary of State Hillary Clinton and Senior Director for Western Hemisphere Affairs Dan Restrepo.

"We want to continue being good partners and friends" was the message from President Obama said Timerman who did not reveal if the Falklands/Malvinas and Cuba issues were addressed. However "President Cristina did refer to the Cuban situation during the presidential plenary, since Argentina considers necessary the presence of Havana in the summit", added Timerman.

The meeting takes place three weeks after the Obama administration decided to suspend Argentina from the preferential tariffs system in reprisal for the lack of "good faith" regarding the abidance of arbitration rulings which favour US corporations with over 300 million dollars in compensations and remain pending.

"All we've talked here is on the record and please tell the media there was no demand on the trade issue", said Obama according to Timerman. The US president insisted that both sides must continue "to work together and maintaining a direct dialogue, and if there are small trade differences between us, in no way will they be the centre of the relation".

Earlier in the day the Argentine president shared the lunch table with her peers from Colombia Juan Manuel Santos; Bolivia's Evo Morales; Brazil's Dilma Rousseff; Costa Rica's Laura Chinchilla and US Secretary of State Hillary Clinton.

The Argentine delegation to the summit has convened 30 leaders of the 34 countries (Cuba and Ecuador were absent and Venezuela and Nicaragua were represented by their Foreign ministers).

The Argentina delegation to the summit includes Industry minister Debora Giorgi; the legal and technical secretary of the Presidency Carlos Zaninni; Secretary General of the Executive Carlos Parrilli and Timerman and Scoccimarro. There are also four members of Congress, two from the Lower House and two Senators.