Rousseff blasts rich countries "monetary flooding": marks difference between defending and protecting
Sunday, April 15th 2012 - 16:01 UTC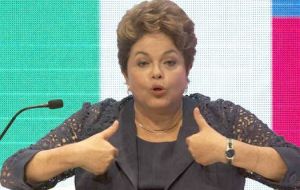 Brazilian president Dilma Rousseff staunchly defended Latin American integration as she took part of the CEO forum at the 6th Summit of the Americas in Cartagena de Indias, Colombia. She blasted rich countries over their so called "monetary flooding" because it attempts against the industrialization of emerging nations.
Rouseff once again spoke of a topic which she has stressed in the last months; her criticisms against expansionist measures implemented by rich countries to face the crisis which, in her opinion, hinder emerging countries by generating a higher appreciation of their currency and thus losing competitiveness in the international market.
The Brazilian president assured that since the global crisis began in 2009, rich countries led a "monetary flood" which expanded the monetary mass in 9 trillion dollars.
"This affected us: our currencies are appreciated, which turns into an obstacle for the trade of goods and services and turns our economies into possible victims of a deindustrialization process."
Rouseff also stated that the strategy of facing the crisis has a protectionism act. "We obviously have to defend ourselves. Defending differs from protecting. We cannot allow our manufacturing sector to be ravaged, cannibalized" she added.
The Brazilian president called on the developed world to boost investment rather than relying on monetary stimulus to fuel demand: the European monetary policy is flooding emerging markets, overvaluing exchange rates and exposing these countries to a massive inflow of cheap imports.
Likewise she insisted that "the growth of the continent is inexorably linked to a larger integration".
Since August, Brazilian central bank president Alexandre Tombini has reduced the benchmark Selic rate five times as the priority to revive economic growth outweighed concern inflation would remain above target.
Rousseff has also increased import tariffs and three weeks ago ordered tax cuts and other stimulus measures worth about 65 billion Reais (35.4bn dollars), as she seeks to protect domestic manufacturers from what she called "predatory" competition from rich nations.