EC supports Spain and warns YPF expropriation can seriously damage business climate
Tuesday, April 17th 2012 - 03:12 UTC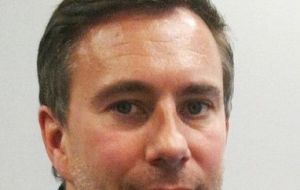 The European Community strongly supported Spain and oil corporation Repsol saying that the expropriation by Argentina of YPF is "a very negative signal" for investors and could seriously damage the business climate of the country.
"An expropriation by the Argentine government would send a very negative signal to national and international investors and could seriously damage the business climate in Argentina", said EU Trade spokesperson John Clancy a few minutes after President Cristina Fernandez in Buenos Aires announced her government's determination to take over 51% of YPF held by Repsol.
Clancy added that the European Commission expects that the differences between the Argentine government and Repsol-YPF can be ironed out through a common shared solution that is in the interest of both sides.
"We encourage both sides to find a mutually agreed solution which does not harm the business climate and relations between the EU and Argentina", pointed out Clancy.
Last week EC president Jose Manuel Barroso sent a personal message to Cristina Fernandez through the EC delegation in Buenos Aires expressing concern about events regarding Repsol and called on Argentine to respect commitments and contracts with foreign investors.
Further back the EC had made public that it was "on the side of Spain" in the controversy with Argentina, although admitting it does not have the legal mechanisms to pressure Argentina to comply with its commitments regarding investments from EU country members.
Although the Lisbon Treaty of 2009 gave the EC competence over EU investments overseas but since there are no legal instruments yet determined the framework for any claims against Argentina must be worked out through the bilateral Spain-Argentina treaty for the bilateral protection of investments.
A 1991 framework treaty on trade and cooperation between the EC and Argentina is open to cooperation and joint actions, but does not extend to the EU the possibility of beginning litigation actions regarding trade or investment issues.
Besides the World Trade Organization does not cover issues related to protection of investments and there are no accords between WTO and Argentina on the issue so that the EU "has no chance to act through that multilateral organization"
However before the approval of the 2009 Lisbon treaty, the EC was successful through diplomatic channels to discourage Argentina from advancing on a public utilities bill which many EU members considered harmful for their interests.
The EU-Argentina joint committee is scheduled to meet April 19/20 in Buenos Aires.