Brufau said Repsol will demand a compensation of 10 billion dollars
Wednesday, April 18th 2012 - 08:34 UTC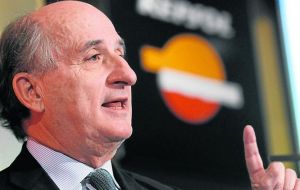 Repsol's Chairman Antonio Brufau said the Spain-based group will demand to Argentina a compensation of 10 billion dollars after President Cristina Fernández decided to nationalize the energy giant. Likewise, Brufau accused the Argentine government of "having distorted information" on regards the company's production during Monday's presentation.
In a press conference held on Tuesday in Madrid, Brufau revealed that the billionaire compensation will be asked before the International Centre for Settlement of Investment Disputes (ICSID), which depends from the World Bank.
Likewise, Brufau referred to the existence of a "constant harassment against the company, as well coercive actions, and information leaked before hand, which all together facilitated the expropriation of the company."
Furthermore, Brufau explained that "The expropriation is nothing more than a way of covering over the social and economic crisis facing Argentina right now", and warned, "These are acts that won't remain unpunished, and that's why the company has decided to ask a compensation that should be at least the same as the value of the expropriated share stake [57.43%]."
According to Brufau, the company's worth 18.3 billion dollars as a whole (YPF current market value is US$10.6 billion); hence Repsol's stake percent has a value of 10.5 billion dollars.
The Spanish businessman also remarked that "the company has always been serious, and always tries to do things right. But the Argentine government says we are responsible for the lack of [oil and gas] production, but they waited ten years to say it. It is difficult to solve problems with attitudes like this."
"We walked side-by-side Argentina during its recovery and growth with policies of reasonable prices, but now they call us "irresponsible". We paid close to 6.8 billion dollars in taxes, and we achieved to duplicate the company's staff during our stay."
To end, Brufau indicated that when talking about gas production "We obtained the maximum production possible between 2004 and 2006, times when just few companies were showing growth indexes in Argentina. They [Argentina's government] are distorting information".