Debts and environmental cleanup to subtracted from YPF compensation says Argentina
Wednesday, April 18th 2012 - 08:30 UTC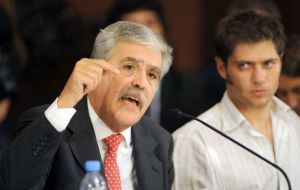 Argentina accused Spain's Repsol oil company on Tuesday of hiding the true value of its Argentine YPF unit and said a thorough review of its books after seizing control of its offices will affect the compensation paid to its shareholders.
Deputy Economy Minister Axel Kicillof told Argentina's Senate that the company has major debts to pay, and suggested that environmental cleanup costs could be deducted from whatever the Argentine government pays for Repsol's expropriation. "Only from the inside can we know the environmental damage, much of surely has not been published in their balance books."
Repsol estimates that the 51% stake in YPF that Argentina is expropriating is worth 10.5 billion dollars. Kicillof cast doubt on that, and said that Repsol will be responsible for any debts and damage it caused while running the company.
"We're going to see where they threw out each cubic meter of contaminated water," he vowed.
"The move spoils the good relations that had existed between Argentina and Spain, and greatly affects the international reputation of Argentina" Spanish Prime Minister Mariano Rajoy said at a World Economic Forum meeting in Puerto Vallarta, Mexico.
President Cristina Fernandez on Monday decreed that Spain-based Repsol's majority stake in YPF is a "public good" and subject to expropriation. She put two of her top political appointees (Kicillof and Federal Planning minister Julio De Vido) in charge of the company, whose executives were given fifteen minutes to abandon their offices in Buenos Aires. She also asked her majority in Congress to quickly ratify the re-nationalization of YPF, which was state-owned for decades before its privatization in the 1990s.
"No one can say that we're taking away something that was theirs," said Kicillof, in Senate debate on the expropriation measure. Kicillof gave other energy companies few reassurances on Tuesday. In his Senate speech, he asserted that all of them need to be subject to state control.
The Argentine president and her ministers have complained that Repsol failed to invest enough in Argentina's energy future, taking profits out of the country in the form of dividends, and exporting too much of Argentina's oil to profit from world prices, rather than supplying price-controlled markets within Argentina.
YPF is Argentina's largest company and vital for its energy future, especially after a recent find of huge unconventional oil and natural gas reserves -- a discovery that Brufau stressed came from his company's exploration efforts.
But the company has been under intense pressure from government to raise output while its shares have plunged in recent months on fears of possible state intervention.
Argentina this year expects to import more than 10 billion dollars worth of gas and natural liquid gas to address an energy crisis even though it is an oil-producing nation, according to estimates from the hydrocarbon sector.