IAATO increasingly concerned on recent yacht related incidents in Antarctic waters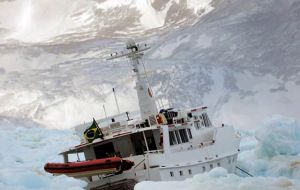 Recent incidents and sightings involving yachts in Antarctic waters have generated considerable interest and concern among the members of the International Association of Antarctica Tour Operators (IAATO).
The incidents and reports – some of which have been covered by the media – involve commercial and private yachts not associated in any way with IAATO, according to Administrative Director Steve Wellmeier. Some of the incidents include:
The sinking of the Brazilian motor yacht 'Mar Sem Fim' April 7 in Maxwell Bay, South Shetland Islands. The four Brazilian passengers and crew were rescued unharmed by the Chilean Navy and transported by air from the nearby Presidente Eduardo Frei airstrip to Punta Arenas, Chile. The suspected cause of the sinking was compression of ice following severe weather the day earlier.
The detention and subsequent release of the yacht Nilaya – operated by self proclaimed "Wild Viking" Jarle Andhoy – by Chilean authorities in Puerto Williams, following its arrival from the Ross Sea via the Antarctic Peninsula.
Andhoy is reportedly wanted by the New Zealand authorities for sailing to Antarctica on two occasions without permits, insurance or contingency plans. Last year, Andhoy's yacht Berserk sank in McMurdo Sound in the Ross Sea with the loss of three crewmembers. He has had previous run-ins with the governments of Norway, Finland, Russia and Canada.
"We are pleased to learn that the passengers and crew of these vessels are safe following their most recent Antarctic travels. Nevertheless, serious questions remain about the preparedness and experience of some of these operators, and whether proper permits were secured from their respective national authorities for travel to Antarctica" said Wellmeier.
In the case of the Nilaya, for example, "it is clear that Jarle Andhoy was well aware such authorization was necessary, and flaunted the requirement as unimportant and irrelevant. Our own yacht operators – who have many decades of combined experience in Antarctic waters – also question the adequacy of preparation and contingency planning with respect to the Mar Sem Fin incident, considering the design of the vessel and the lateness of the season, when ice and wind conditions can be very unpredictable and severe," added Wellmeier.
IAATO requires all of its Member companies – about a dozen of which are yacht operators – to secure all relevant authorization and permits from their respective national authorities, to provide advance notification of itineraries, environmental assessments, emergency contact information and expedition operating procedures, as well as contingency and safety plans. "Whether the vessels mentioned above have met these important criteria remains to be seen," he noted.
"It is our hope that the notoriety of these episodes resonates with the Treaty Parties under whom the boats are flagged or the where the skipper calls home. We look forward to learning more about the status of these vessels in due course from their respective authorization regimes. Robust authorization processes can significantly reduce these situations by working with yachtsmen to ensure that they and their vessel are well prepared.
"Unfortunately, yacht operators who take their responsibilities seriously are rightly concerned that such incidents reflect negatively on the entire industry, however unjustified that reflection might be. Accidents can and do occur, but IAATO has stated on many occasions that vessel operators who go through the authorization process with an Antarctic Treaty Party learn from the experience and thereby are more likely to operate in a safe, responsible fashion, particularly when the process is detailed and incorporates adequate contingency planning.
"Our Members pride themselves on working together to develop, adopt and implement operational standards that maintain the wellbeing of Antarctic travellers and crew, and mitigate potential environmental impacts. IAATO yacht operators also have made a concerted effort to share their practical experience and knowledge to others intending to sail to Antarctica though a yacht outreach-campaign. The aim is to help ensure that safe and environmentally responsible practices are followed," said Wellmeier.
IAATO provides extensive educational materials and information to Antarctic9bound yachts, even those that are not members of the 21-year-old association. The IAATO yacht web page –www.iaato.org/yachts – includes a number of helpful tips and links to assist yacht operators in making sure that they, and their vessels, are ready for extreme weather and sea conditions, have secured the necessary environmental authorization, and submit appropriate application documents to their respective national authority before venturing south.