Gibraltar receives record number of cruise visitors during the first quarter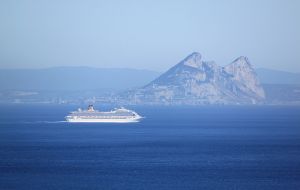 Gibraltar received a record number of cruise passengers in the first quarter of the year, according to the latest statistics released by the Gibraltar Government. The figures represent a slight increase over the same period in 2011, which itself marked a sharp rise over previous first-quarter cruise business.
In the first three months of the year in 2011, some 21.529 cruise passengers arrived in Gibraltar. This year, the figure for the same three-month period reached 22.063 passengers, according to the report from the Gibraltar Chronicle.
The start of the year has traditionally been slow for the cruise sector, but that has changed in the last two years. The increase is driven by the arrival of large vessels operated by leading cruise companies including Royal Caribbean and MSC.
Despite the high number of passengers, just 10 vessels called at the Rock during the three month period under review, both this year and in 2011. The global economic downturn has hit passenger numbers in the international cruise sector but Gibraltar is proving resilient.
Last year the Rock welcomed 187 vessels carrying 325.133 passengers, an all-time record. This year port officials expect around 177 ships carrying 303,142 passengers to arrive in Gibraltar.
The figure is largely in line with market trends in recent years and in any event could rise before the end of the year.