London mayoral candidate for the British National party is a Uruguayan national
Thursday, April 19th 2012 - 22:12 UTC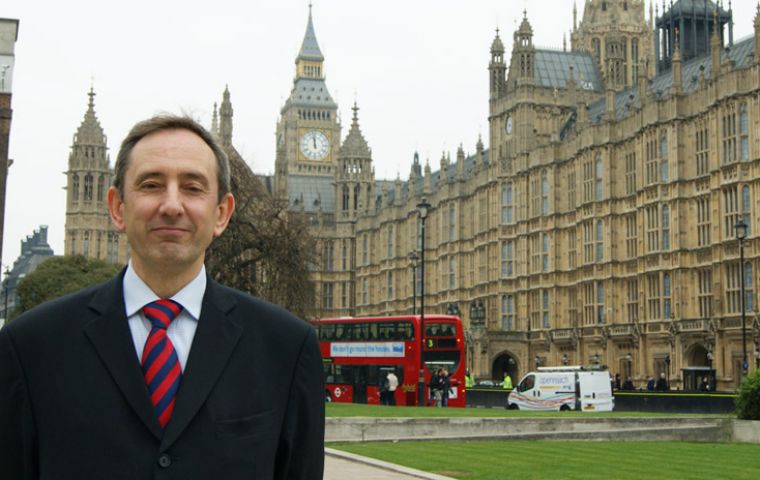 The British National Party confounded expectations by fielding a Uruguayan national, Carlos Cortiglia, as its candidate for London mayor. Mr Cortiglia moved to the UK in 1989 and has lived and worked in London ever since.
He says he is "astonished" by the "hostility shown by many of the migrants towards the British and their way of life".
Mr Cortiglia says he wants "a British Britain" - and a requirement for anyone coming to live in this country to speak English.
The former BNP press officer has also mooted the abolition of the London congestion charge, the promotion of renewable energy sources like solar power, and made plain his opposition to the use of water cannon on the capital's streets.
But he has been forced to answer questions about his own background and to deny fighting for Argentina in the 1982 Falklands War.
Married with three children - all of whom were born in the UK - Mr Cortiglia came to London to work for the BBC World Service.
According to his official biography he was a presenter, producer and studio manager on news and features programs for Spanish-speaking countries.
He has also worked for the Foreign and Commonwealth Office on its radio and TV services, as well as, he adds somewhat cryptically, carrying out "much work under the Official Secrets Act".
Before coming to the UK, Mr Cortiglia was co-ordinator of Uruguay's parliamentary state broadcasting, managing coverage of the general assembly, senate, House of Representatives and parliamentary committees.
The Uruguayan half of his CV also includes time as a state secondary school teacher in maths and modern languages.
Mr Cortiglia became a British Citizen in 2001 and joined the British National Party in the same year. He stood unsuccessfully for the party in elections for the London Assembly in 2004.
Claims about his involvement in the Falklands War come in part from an interview Mr Cortiglia apparently gave to La Nacion newspaper in 2003, in which he is quoted as saying: "En 1982 me ofrecí como voluntario para ir a las Islas Malvinas." In English: "In 1982 I volunteered to go to the Malvinas Islands [the Falklands]".
Mr Cortiglia says this interview never took place, and explains on the BNP's website that it was a smear and that he had no involvement - formal or voluntary - with Argentine forces during the conflict.
Any suggestion otherwise was "an amazing fabrication", he insists, given that he was, in fact, based in the Uruguayan capital Montevideo for the entire duration of the war, studying and working as a teacher.
Mr Cortiglia may be an unconventional candidate for a party which has campaigned against "the immigrant invasion of our country"
But he sees no such contradiction, arguing that Uruguay is a country built on British ideals and that since coming here, he has adopted everything about his new nation.
Asked why he joined the BNP, Mr Cortiglia says he wanted "to pay back the country that has been so kind to me and my family".
"I want to help preserve the freedoms, values and traditions that help make this a great country to live in."
A regular contributor to the website of London Patriot, Mr Cortiglia has written on a range of topics, including introducing the death penalty for drug dealers, and the need to halt the spread of sharia law in the UK.
He believes the mainstream political parties are afraid to debate the dangers of immigration, arguing that Britain was built on Christian values and that by allowing those to be "eroded" by the spread of Islam, "we are basically destroying the country". (BBC).-