EU parliament deplores YPF seizure; calls for an end to Argentina trade preferences
Saturday, April 21st 2012 - 07:13 UTC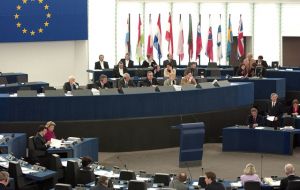 The European parliament 'deplored' the Argentine government decision to expropriate a majority control in the YPF hydrocarbons corporation - which is owned by Spanish energy company Repsol- and called for the suspension of Argentina's tariff concessions under Europe's so-called generalised system of preferences (GSP). In a resolution, the House also urges Argentina to "return to the path of dialogue and negotiation".
The document points out that Argentina's "unilateral and arbitrary" decision represents an attack on the exercise of the free enterprise and the principle of legal certainty, "thus causing the investment environment for EU businesses in Argentina to deteriorate".
The parliament expressed its deep concerns regarding the situation, as it represents the "non-fulfilment of obligations under international agreements", and warned that it may have negative effects such as international disinvestment and adverse consequences for Argentina in the international community.
Furthermore, the MEPs noted that this decision affects only one company in the sector (the Spanish energy firm Repsol) and only part of its shares, "which could be considered discriminatory", they say.
The European Parliament also alerted the Argentine decision could be detrimental to the block's relation with the Mercosur by "putting a strain on the climate of understanding and friendship needed agreements."
The resolution was voted by all groups in the EU parliament with the exception of the Greens/Free Europe alliance and the United Left which actually supported Argentina's decision.
An estimated 2.4 billion Euros annual exports, equivalent to 27% of total sales to the block, benefit from the special tariffs system. Among some of the items benefiting are bio-fuels, sunflower seeds and oil; citrus oil; shrimp and frozen hake; citrus juice; tobacco, mandarins and grapes.