Brazil helped Soviet support operation for Argentina during the Falklands conflict
Monday, April 23rd 2012 - 09:21 UTC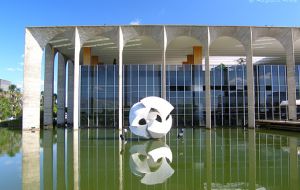 Brazil collaborated during the 1982 Falkland Islands conflict in an operation mounted by the Soviets to supply Argentina with spares, arms, munitions and other requirements according to the Rio do Janeiro newspaper O'Globo based on disclosed documents from the National Security Council and the Ministry of Foreign Affairs.
The documents contradict what has been official policy since the time of the conflict and that was the "neutrality" of Brazil, which allegedly did not take sides in 1982.
The clandestine logistics operation was organized by the former Soviet Union with the help of Cuba, Peru, Libya and Angola and using the airports of Recife (Pernambuco northeast Brazil) and Rio do Janeiro for the air bridge.
The basic argument was that since the US was supporting the UK in the recovery of the Falklands, the Soviet Union called on Cuba to organize the support operation in the framework of the Cold War.
The first contact of Soviet diplomats offering support to Argentina occurred a week after the conflict began, on April 9, according to a report from the Brazilian navy.
However the first aircraft, Cuban flagged caused an incident since Brazil and Havana at the time had no diplomatic relations. The situation was overcome following six hours of discussions with Argentine diplomats, and the plane was allowed to continue.
According to O'Globo the air traffic was 'intense', (up to two daily flights in the peak of the conflict) and while Brazil preached 'neutrality' it was helping then Junta chief General Galtieri to receive missiles, mines and other weapons in aircraft from the Soviet Union which before reaching Brazil called at Lybia
According to Brazil's National Security Council, Argentina's list of requests included "credits for triangle trade operations to purchase weapons in Europe", aircraft, incendiary bombs and ammo for small weapons, as well as radars and air fuel.
At the time the Brazilian ministry of Foreign Affairs recommended a "favourable treatment" to the requests in their passage through Brazil.
The Aerolineas airbridge became a routine flight on May 26 until the end of the conflict.
O'Globo also exposed a disclosed document from the British embassy to the Foreign Ministry protesting that Brasilia was allowing its airports to receive flights with "lethal cargo" en route to Argentina while a RAF bomber was retained during the whole conflict, after having landed in Rio do Janeiro with mechanical problems following a bombing raid on the Falklands.
Brasilia replied that in its inspections of Aerolineas Argentinas flights originating in Tripoli, Lybia "nothing of military nature had been found".
O'Globo also mentions that Peru supplied Argentina with Mirage aircraft and spares as well as Exocet missiles.
The Rio newspaper mentions a second source of weapons and arms for Argentina, this time from Israel and two air routes, one with calls at the Canary Islands and Rio do Janeiro and a second with stops in Venezuela, and Lima, Peru.
Apparently the British were aware of these clandestine operations.