Argentina formalizes proposal for air link with Falklands and resumption of fisheries' cooperation
Tuesday, April 24th 2012 - 19:19 UTC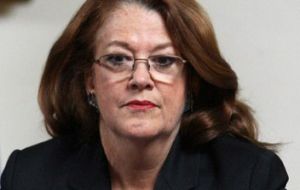 Argentina made a formal proposal to the UK for the establishment of direct flights from Argentina to the Falklands and to resume cooperation in the conservation of fishery resources in the South Atlantic, indicates a release posted on Tuesday in the Argentine Foreign Ministry site.
According to the release Ambassador in UK Alicia Castro met with Foreign Office minister Jeremy Browne at the Foreign Office where she made the formal proposals regarding flights and fisheries in letters addressed to Foreign Secretary William Hague.
At the meeting with Browne the two officials also addressed "a wide agenda of other issues, with the purpose of identifying areas of common interest".
The proposal for direct flights to the Falklands from Argentina operated by Aerolineas Argentinas is "oriented to review the current situation".
"This is an opportunity to improve communications and the quality of life to the Islanders", adds the release.
Likewise taking into account the importance of conservation of fishery resources in the South Atlantic, the Argentine government proposes "the resumption negotiations with the purpose of reviewing the mandate from the South Atlantic Fisheries committee".
Finally the Argentine government reiterates its determination to resolve the existing sovereignty dispute only by peaceful and diplomatic means and trusts the British government will agree to comply with the numerous UN resolutions on the issue.
The Argentine government reiterates its standing disposal to agree the date and place to resume negotiations, concludes the release.
Currently the only air commercial and scheduled link between the South American continent and the Falkland Islands is a weekly flight from Lan Chile, which leaves Punta Arenas, extreme south of Chile, on Saturdays and returns on the same day.
Once a month the scheduled flight calls at Rio Gallegos, Argentina.
The Lan link is part of the 1999 agreement reached by the UK, Argentina and the Falkland Islands government which also opened the Islands to Argentines wishing to travel with an Argentine passport.
Last March President Cristina Fernandez addressing the Congress when the opening of the ordinary legislature announced her government's intention to agree with the UK three weekly flights, operated by Aerolineas Argentinas, leaving from Buenos Aires metropolitan air terminal of Aeroparque.
At the time, although it was only an announcement, several Falklands' elected members of the Legislative Assembly speaking personally said that Islanders were most satisfied with Lan Chile's service.
Foreign Office sources said it was an issue "to be decided by the Islanders", if and when it is formally presented.