Cuba plans private sector to take over 50% of the economy in five years
Tuesday, April 24th 2012 - 20:51 UTC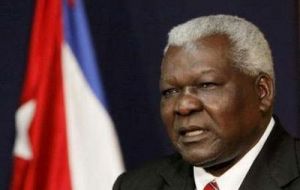 Cuba will move nearly 50% of the state's economic activity to the "non-state" sector a senior Communist party official said, the latest signal the island is headed toward a mixed economy.
Cuban President Raúl Castro has hammered away at the need for the state to become more efficient and get out of secondary economic activity such as farming and retail services since taking over for his ailing older brother, Fidel, in 2008.
China and Vietnam adopted similar measures in the last few decades of the 20th century as they began to shift to what is known as market socialism.
"Today, almost 95% of GDP is produced by the state. Within four or five years between 40% and 45% will result from different forms of non-state production," a long-time Communist party political bureau member, Esteban Lazo Hernandez, said in a speech to the Havana city government.
Lazo, who is considered by many to be the Communist party's top ideologue, said the increased private business and the tax revenue the move would generate meant local government needed to improve its efficiency in order to cope with the shift, according to clips of his speech broadcast by state-run television on Sunday.
The Cuban Communist party approved a comprehensive plan to revamp its Soviet-style command economy in April of last year.
The 311-point document calls on authorities to support and encourage, "mixed-capital companies, cooperatives, farmers with the right to use idle land, landlords of rental properties, self-employed workers and other forms that contribute to raise the efficiency of social labour."
The plans envision the reduction of the state workforce by at least 20%, or a million workers, the elimination of subsidies in favour of more narrowly targeted welfare programs and granting state-run companies more autonomy.