Borders & Southern raises £46 million to analyze gas discovery in the Falklands
Thursday, April 26th 2012 - 21:06 UTC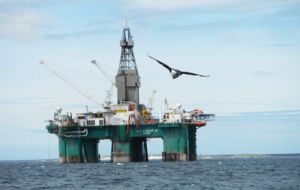 Oil explorer Borders & Southern boosted its available funds to help it analyse a gas discovery in the Falkland Islands, by raising £ 46 million through a share placing.
Borders & Southern, one of a handful of firms looking for hydrocarbons in the Falklands as part of an exploration campaign said on Thursday it placed new shares with institutional shareholders at 84 pence per share, the same price at which they closed on Wednesday.
Investors were disappointed when Borders discovered gas condensate at its Darwin exploration well, to the south of the Falklands, on Monday, as they had been hoping for an oil find, which would have been easier to exploit given the remote location of the Islands.
The new cash will be used by Borders to obtain more geological data on its licences in the Falklands and to further analyse the gas condensate discovery it made, as well as for contingency financing for its next exploration well, it said.
"We are delighted to announce the success of this conditional fundraising," said CEO Howard Obee.
"The proceeds of the Placing will strengthen our already robust balance sheet and allow Borders & Southern to complete additional work including additional seismic and analysis to better understand the recent drilling results."
It is planned that the Leiv Eiriksson rig will next move on to drill the larger Stebbing prospect.
On Monday Borders revealed the deep-water explorer had discovered gas condensate, otherwise known as 'wet' gas, in the Darwin well. Borders say it is a large and simple structure that is likely to contain 'significant' volumes of gas.
Disappointed investors who were expecting an oil find forced a wave of profit taking which saw the shares drop over 30% on AIM, from last week's highs of 140p, after the stock doubled in value in the days leading up to the announcement.
At the moment Borders says it is too early to accurately estimate the size of the gas resource discovered in the Darwin prospect. On Monday analysts said that Borders has much to do to understand the gas discovery and it could take several months to analyse the findings.