Breeding bulls' prices soar in US as ranchers rebuild cattle herd, smallest in 60 years
Thursday, April 26th 2012 - 23:31 UTC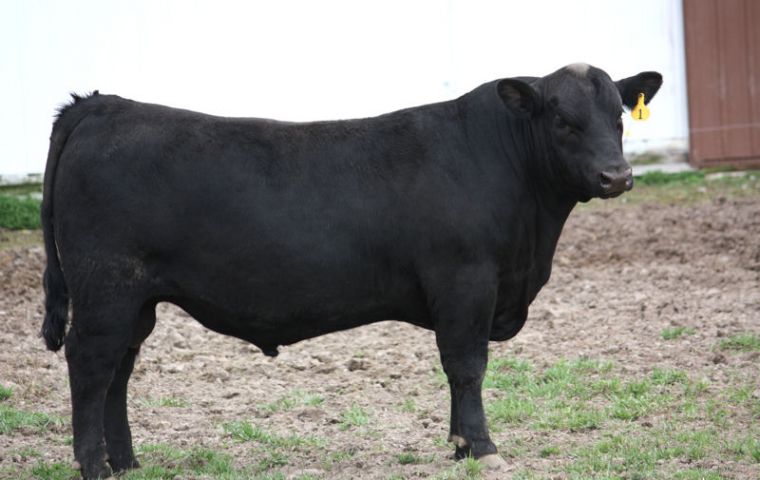 Kramers Mandate, a majestic 13-month-old weighing nearly 590 kg, commanded the highest price for a breeding bull in the 44-year history of an annual auction in Illinois, Midwest US.
At 8.800 dollars, the Angus breed with a shiny black coat was the pick of the litter at one of the most heated sales in decades. Another 77 bulls of lesser pedigree also sold for record prices at the February auction.
From Illinois to Montana, the price of US breeding bulls has surged by as much as 70% from a year ago, with ranchers and specialist breeding firms competing fiercely for prime specimens that, given time, will help rebuild an American cattle herd that has dwindled to the smallest in 60 years.
Eventually, the rush should translate into greater cattle supply and lower retail beef prices that have reached record heights since last year, tempering fears of resurgent food price inflation and bolstering margins for companies like JBS USA and Tyson Foods Inc (TSN.N), which have been beset by two years of high feed costs and more recently by the "pink slime" debacle.
It also shows that ranchers may be ready to set aside the painful precedent of five years ago, when they rushed to expand production just as grain prices shot up, wiping out margins and forcing many into financial distress.
"Expectations for the future look very promising as cow numbers have declined and demand in the domestic and export markets has been very strong," said Dave Seibert, 67, a retired livestock specialist from the University of Illinois in Urbana-Champaign who ran the Illinois auction.
It is a nervy wait: the gestation period of a cow can typically last nearly 10 months and the animal will spend another five to six months being fattened on a steady diet of corn until it weighs above 1,000 lbs.
Seibert said the sale was one of the most active and well attended he had seen in his more than 30-year involvement with the event.
"The higher price for herd sires (bulls) was driven by the outstanding genetics, weights and performance provided at the sale. Also, impacting the higher prices was the record price of feeder cattle and finished steers," he said.
Marvin Kramer, 52, owns Kramer Angus, a family-run operation in Farina, Illinois set up more than five decades ago by Eugene and Marilyn Kramer. He is also the former owner of Kramers Mandate.
He said buyers prefer pure-bred bulls that rank highly in traits such as ease of birthing for the cow and how quickly calves would mature -- making them less costly to maintain.
Buyers are also looking for bulls that can produce calves with inter-muscular fat or marbling that consumers associate with tenderness and flavour.
"That commands a premium price from the people who are consuming the beef and he (Kramers Mandate) had all of those things going for him," he said.