IMF tells Latam good days are not forever and should rebuild 'defence walls'
Thursday, April 26th 2012 - 06:18 UTC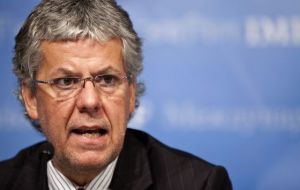 The IMF warned Latin America on Wednesday that favourable economic conditions are not for ever and called on the region's countries to "rebuild defences" ahead of an uncertain economic future.
During the presentation in Colombia of "Economic Prospects: the Americas" the IMF director for Latin America, Nicolas Eyzaguirre said that even when "when the favourable external conditions can be expected to remain in the near future", the regional economies must double efforts in cutting debt.
The favourable conditions for such an initiative currently can be described as cheap abundant foreign credit and sustained strong prices for commodities.
"It is imperative that much of that favourable external impulse is saved and defences are built to the tune of those most economies showed when the 2008/2009 crisis arrived, and which enable to put into practice 'anti-cyclical' policies", said Eyzaguirre.
The IMF report indicates as the main danger for Latin American economies the consequences of turbulences generated in the European situation as happened at the end of 2011, and countries most exposed are those with a greater global financial integration, such is the case of Brazil, Colombia, Peru, Chile and Uruguay.
Given the turbulences which will have an impact on trade and will devalue currencies, the IMF recommends in the report "liquidity policies to facilitate the credit market fluidity both in domestic and foreign currencies, mainly the US dollar".
The risks of a European crisis are less for other economies such as Argentina, Bolivia, Ecuador and Venezuela, since they are not so integrated to the global financial markets.
However in spite of these precautions, growth prospects in Latin America according to the IMF remain positive with an average 3.7% this yeas and 4.1% in 2013.
"Even when these percentages are more moderate that the 4.5% of 2011, it is almost was Latin America's economy can develop without creating inflationary pressures", said Eyzaguire.
"It's growing at the rate it should be growing".