Marine Le Pen waiting for the phone call from Sarkozy to discuss endorsement
Thursday, April 26th 2012 - 21:44 UTC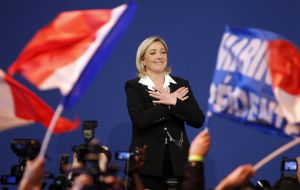 Far-right leader Marine Le Pen, who has emerged as a kingmaker in France's presidential race, sought to wrest concessions from President Nicolas Sarkozy by challenging him not to bar her party's way in parliamentary elections.
Both conservative Sarkozy and Socialist frontrunner Francois Hollande have courted Le Pen's voters since she took third place in Sunday's presidential first round with nearly one fifth of the vote, the National Front's best score.
Sarkozy, who trails his centre-left rival by 10 points in polls before a May 6 runoff, has made the most direct overtures to National Front supporters, saying he respected their vote for a party which has long been stigmatised.
Le Pen has promised to give her view on the second round at the National Front's traditional "Joan of Arc" May Day rally, and she urged Sarkozy to make his own position clearer concerning parliamentary polls in June.
Building on her record support, the National Front hopes to win its first seats in parliament since 1986, when an experiment with proportional representation gave it 35 deputies.
"In a runoff between the National Front and a Socialist, would the UMP and the president prefer to have one of my deputies or a Socialist elected?" Le Pen asked on RTL radio, referring to Sarkozy's centre-right Union for a Popular Movement party.
"I still don't have an answer to that question. I'm waiting," she said, when asked who she would endorse. "How I express myself will depend on the response."
Hollande, who said he understands voters' exasperation at high unemployment and a widening gap between rich and poor, has blamed Sarkozy for fostering the far right by aping its aggressive stance on immigration and national identity.
Sarkozy took up another Le Pen idea on Thursday, calling for a change in the law to allow policemen who open fire on suspects to be presumed to have acted in "legitimate self-defence" unless proven otherwise.
He made the call after hundreds of officers demonstrated in police cars on the central Champs-Elysees avenue after a colleague who shot dead a fugitive in a Paris suburb was placed under judicial investigation for suspected murder.
"I am not prejudging the justice system ... but as head of state I must defend the honour of our officers when it is called into question," he told frenzied supporters, who chanted "We are going to win!"
Opinion polls show supporters of Sarkozy's centre-right UMP party favour a deal with Le Pen, but the president has ruled out any agreement which would give the far-right ministerial positions or help them win seats at June's legislative election.
However, Sarkozy has stopped short of instructing UMP supporters to vote for any other party than the National Front in the second round of the legislative ballot to shut the far-right out of parliament, as politicians have done in the past.
Based on Sunday's results, the National Front could reach the second round in up to 345 of the 577 constituencies in the parliamentary election, splitting the right-wing.
Meanwhile the number of jobless people in France rose for the eleventh-month running in March to hit the highest level since September 1999. The Labour ministry data released Thursday showed the number of registered jobseekers in mainland France increased by 16.600 in March to 2.88 million, up 0.6% on the month and 7.2% on the year.