US admits relations with Argentina are "difficult" and calls for positive attitude
Friday, April 27th 2012 - 02:37 UTC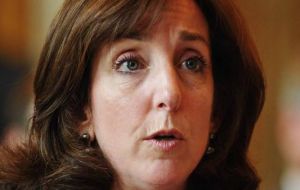 US Assistant Secretary of State for Western Hemisphere Affairs Roberta Jacobson asked Argentina to go back to having a "positive" relationship with the international financial community and its creditors.
While speaking at a meeting of the Latin American subcommittee of the Lower House's Foreign Affairs Committee, Jacobson acknowledged that the bilateral relationship with Argentina is "difficult" due to the country's relationship with the international financial community.
"Argentina has to go back to having a positive relationship with the international financial community and its creditors in the US and in the world," she said.
Ms Jacobson said that these 'difficulties' led US president Barack Obama to temporarily suspend tariff benefits to Argentina because the country has yet to honour compensation payments involving 300 million dollars to two US companies, following a favourable ruling from an international arbitration court.
Last week Washington also expressed 'concern' about the Argentine decision to seize 51% of YPF belonging to Spanish oil corporation Repsol arguing it creates "a very negative climate for investments" and affects the "whole international community", according to US State Department spokesperson, Mark Toner.
Jacobson also recalled that to the financial difficulties must be added relations in security issues, particularly since February 2011 when the Argentine government decided to seize instruments and other materials from a US Air Force aircraft that was delivering in Buenos Aires support equipment for police training.
"Since last year's incident with the military aircraft we have not been able to work in issues such as cooperation in combating the drugs trade, as we would like", admitted the Assistant Secretary of State.
The top official said the US continues to advance in "more positive areas" of the relation with Argentina, but "we continue to come across challenges".
Republican Congressman Connie Mack which is member of the Foreign Affairs committee said "Argentina was planning nothing good" and is ignoring "court rulings" in reference to the International Centre for Settlement of Investment Disputes, which depends from the World Bank.
Besides the suspension of tariff benefits and the diplomatic disappointment which still subsists because of the aircraft incident, the US/Argentina relation suffered a further blow last March when the country was included for the first time in the black list of countries not doing enough about money laundering.