Falklands' budget enjoys additional surplus boosted by the oil industry
Saturday, April 28th 2012 - 06:11 UTC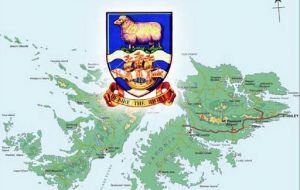 The Falkland Islands oil industry has contributed with an unexpected addition of £9.2M to the Falkland Islands Government (FIG) budget in the first nine months of the financial year 2011/12, reported the Islands government Standing Finance Committee.
The contribution is made up of income tax from oil workers, and corporation tax from oil companies, among other items.
Added to this, £5.6million from illex licence revenue (£4million above budget) and favourable performances by a number of government directorates, FIG now boasts a budget surplus of £14.513M, added the Committee Meeting.
Compared to a revised budget surplus of £3.615M gives a positive performance of £10.898M confirmed the Falklands' government Management Accountant Daniel Heath.
Regarding the illex revenue Director of Fisheries was reported to have assured that the department anticipates no more than a 40% refund to fishing companies. A 50% refund, which is still a possibility given the current level of catch, would reduce this additional revenue to £3M. A particularly successful season, with no refunds, could see illex revenues as high as £9.4M.
Revenues within the Natural Resources Department have also been boosted by oil exploration companies paying out for berthing fees (£169K), purchase of water (£58K) and rent received (£109K). These increased revenues are expected to continue for the period of exploration.
Health and Education has also shown a favourable £348K surplus, partly as a result of the Medical Services Tax (MST) which is currently £413K over estimate.
Current projections indicate total revenues for the year coming in at £546K over estimate.
A number of Falklands' directorates have budgets showing a spend lower than expected at this point in the year including Central Services which shows a favourable £192K while Health and Education also shows a favourable £10K.
Even the Public Works Department achieved a £52K under spend and Natural Resources a £161K under spend and Mineral Resources were £121K favourable. The latter is driven by a £115K saving in hydrocarbon consultancies.
Speaking of Capital Expenditure Mr Heath said capital schemes were currently behind schedule by £454K. (PN).-