Obama jokes about Romney, Congress and Secret Service at press dinner
Monday, April 30th 2012 - 09:21 UTC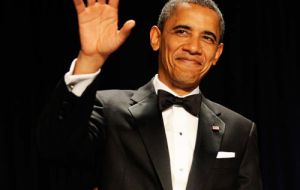 President Barack Obama poked fun at his likely presidential rival Mitt Romney and Republican opponents in Congress, including a dig at Romney's treatment of a pet dog, at the annual White House Correspondents' Association dinner.
The black-tie dinner, informally billed as the "nerd prom," is the biggest social event of the year for Washington media and gives presidents a chance to show a lighter side.
"I'm not going to attack any of the Republican candidates. Take Mitt Romney; he and I actually have a lot in common," the president said, telling the crowd of Hollywood celebrities and Washington power players that both men trailed their wives in national opinion polls.
Obama, who faces re-election in November, is expected to be matched against Romney, a multimillionaire and former Massachusetts governor.
He joked that the luxurious ballroom in the Washington Hilton hotel where the dinner was held was "what Mitt Romney calls a fixer-upper," a dig at Romney's sometimes clumsy references to his wealth.
Obama said he had expected a tough campaign but that one video had gone too far. A fake political attack ad rolled with a news clip of Romney defending himself against criticism for strapping the family dog, Seamus, in a crate on the top of the car during a family trip in 1983.
The clip showed images of the Obama family dog Bo, apparently miserable at being held captive by "European style dog socialism." A deep voice intoned: "American dogs can't afford four more years of Obama. To them, that's 28 years."
Obama also took a shot at former Speaker of the House Newt Gingrich, who has announced he would quit the Republican primary race. "Newt, there's still time man," he said to Gingrich, who was in the audience with his wife, Callista".
In a shot at the legislative branch of the U.S. government, Obama quipped: "Congress and I have certainly had our differences. Yet, I've tried to be civil, to not take any cheap shots and that's why I want to especially thank all the members who took a break from their exhausting schedule of not passing any laws to be here tonight. Let's give them a big round of applause."
Obama ended his speech with a reference to a recent scandal over Secret Service staffers consorting with prostitutes during a presidential trip to Colombia. "I had a lot more material prepared, but I have to get the Secret Service home in time for their new curfew".

- EnjoyJimmy Kimmel speech.