Argentina fish and seafood exports paralyzed because of maritime union conflict
Tuesday, May 1st 2012 - 00:03 UTC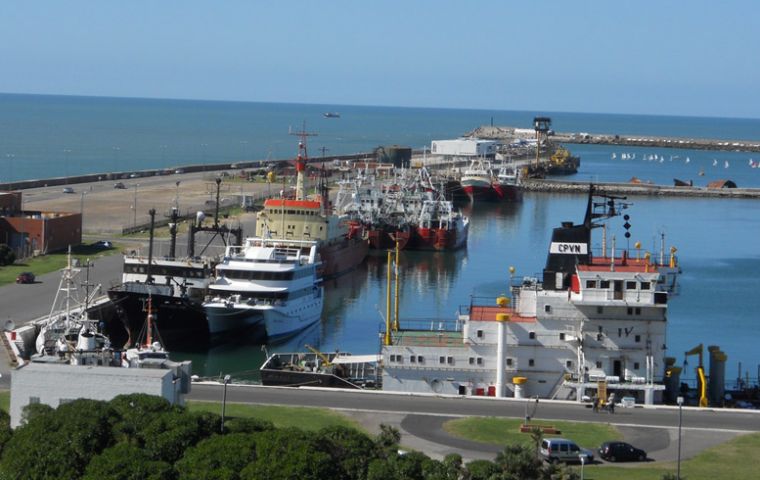 Argentina fish and seafood industry exports have been paralyzed following industrial action from the maritime workers union which is demanding a round of salary and other benefits' negotiations with the fishing companies located in Mar del Plata and Patagonian ports.

The maritime workers union, Somu alleges that the fish industry chambers are "reticent" to open a round of salary negotiations and given the accumulated debts with personnel and delays in complying with the mandatory pensions contributions, "fish remains in Argentina, not a single kilo will be shipped because workers are not going to subsidize with their effort and sacrifice the exporting companies".

A similar situation was experienced in 2008, and since Somu also includes the tugs personnel this means that no containers can be loaded to ships since the union demands from the companies to see the cargo manifesto of the vessels to ensure there are no fish or sea food products embarked. Containers loaded with fish must remain stacked in the port.

The union has also warned about having Argentine fish and seafood loaded in Montevideo which acts as transhipment for many Patagonian ports that do not have direct services to foreign markets.

When the conflict of 2008, which paralyzed Argentine fish' exports during six weeks, some exporters had the cargo sent by truck to Buenos Aires or Montevideo. But then the maritime workers union warned that any shipping company loading container with fish would not be served.

Likewise on this occasion Somu will not handle ships with fish containers while the conflict lasts, a decision that has already altered transhipment activities in Montevideo for several maritime companies such as MSC, Maersk and Evergreen.

The Argentine Navigation centre which brings together maritime agencies has addressed letters to the Transport and Port authorities warning that the whole foreign trade of Argentina has fallen hostage to a conflict between Somu and the fishing companies.

However the Chamber of Argentine Fishing companies, Cepa, alleges that currently "there is no conflict with Somu". The problems allegedly are caused by retired fishing crews which have a standing conflict with the Labour Ministry and the pensions' scheme and to protest have cut access to the port "with no one doing anything to stop them".

Furthermore "Customs has increased controls on fish exports since it argues containers with frozen fish are susceptible of been packed with drugs", claims Cepa.

Mar del Plata concentrates and processes 70% of Argentina's catch. Most of Argentina's catch is exported totalling between 1.4 and 1.5 billion dollars annually. In Mar del Plata the fishing industry employs 20.000 people.