Argentina promises more public harassment on Falklands: "you wait and see"
Wednesday, May 2nd 2012 - 05:37 UTC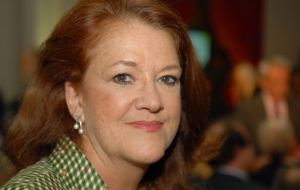 Argentine ambassador in London Alicia Castro who on Monday surprised and embarrassed ('ambushed', according to the UK media) Foreign Secretary William Hague asking him at a public meeting on talks on the disputed Falkland Islands future, has promised more of the same stuff.
According to a report from The Daily Telegraph with great echo in the Argentine media, the incident took place during the launching by Foreign Secretary Hague of Britain's annual world review of human rights at a ceremony attended by diplomats, journalists and rights activists in the opulent surroundings of Lancaster House in London.
"Seeing that the United Nations and the international community and a large group of Nobel Prize winners urge both countries to (start) negotiations in order to find a pacific and permanent resolution, my question is: Are you ready for dialogue? Are we going to give peace a chance?" she asked as Hague took questions from the audience.
A flustered Mr Hague, sensing that Ms Castro was about to make a long statement, interrupted her several times, pressing her to ask a question before cutting her short with: "Thank you. That's enough. Stop".
Following the presentation and asked by the media if she intended to make a habit of appearing at Hague's public events to ask him about the Falklands, Castro laughed and said: "You wait and see".
The incident continued with Hague answering Ambassador Castro that "self-determination is a basic political right of the people of the Falkland Islands ... You can count on us always, permanently, to stand by that right".
Ambassador Castro later said Foreign Secretary Hague had not answered her question.
"You cannot say that you are so good at human rights and democracy if you are not open for dialogue," she said.
Self-determination did not apply to the Falkland islanders, she said. "Self-determination is not a right that every country has or every population has. A province in my country cannot decide if they want to belong to China," she said.
Ms Castro, formerly Argentina's ambassador to Venezuela, took up her post in London in March, just as tensions escalated between Britain and Argentina 30 years after the Argentine invasion of the Falkland Islands that led to the 74 days South Atlantic conflict, which ended with the unconditional surrender of the Argentine forces to a Task Force sent by then PM Margaret Thatcher to recover them.
Ms Castro's appointment to a post left vacant since 2008 is part of a drive by Buenos Aires to push the Falklands issue back up the international agenda. President Cristina Fernandez has launched a wide-ranging diplomatic offensive to assert Argentina's claims to the Islands, accusing Britain of maintaining "colonial enclaves" and calling on London to open sovereignty talks.
Britain that looks after foreign affairs and defense of the self-governing, self sufficient Islands has always stated that it will agree to talks only if the 3.000 Islanders want them – something they have repeatedly shown no sign of doing.
Ms Castro met a junior British foreign minister, Jeremy Browne, last week and handed over notes requesting talks with Britain on air links with the Falklands and cooperation on South Atlantic fisheries.
The Falkland Islands elected members of the Legislative Assembly have said that they are very happy with the current commercial air link through Chile served by Lan Chile once a week, but are willing to consider cooperation in fisheries.
The government of Cristina Fernandez wants the air links to the Falklands from Buenos Aires and with the flag carrier Aerolineas Argentinas, which Islanders refuse point blank, not only because of the war, but also given very non commendable experiences such as the Argentine/UK 1971/72 communications agreement.
However regarding fisheries cooperation the government of the Falklands has long requested the resumption of the agreed scientific exchanges and joint cruises which were dropped unilaterally by the government of President Nestor Kirchner.