"The Scream" sets new record as most expensive work of art at 120 million dollars
Thursday, May 3rd 2012 - 03:06 UTC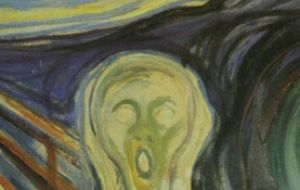 Norway's Edvard Munch's painting "The Scream," one of the world's most recognizable works of art, sold for 120 million dollars at Sotheby's on Wednesday, setting a new record as the most expensive piece of art ever sold at auction.
The sale at Sotheby's Impressionist and Modern Art auction featured other works by Pablo Picasso, Salvador Dalí and Joan Miro, but Munch's vibrant piece was the centrepiece of the auction in a salesroom packed with collectors, bidders and the media.
The vibrant pastel from 1895 was conservatively estimated to sell for about 80 million at Sotheby's, but two determined bidders drove the final price to 107 million, or 119,922,500 dollars including commission, during a 15-minute bidding war.
One of four versions by the Scandinavian painter, which was being sold by Norwegian businessman Petter Olsen, "The Scream", easily eclipsed the old auction record held by Picasso's "Nude, Green Leaves and Bust," which went for 106.5 million dollars at Christie's two years ago.
The sales room at Sotheby's erupted in applause and cheering when the hammer came down. The buyer, who won the auction via telephone bidding, was not identified by Sotheby's.
In recent decades "The Scream," a picture of a person with hands pressed to head against a backdrop of swirling vibrant colours, has become a ubiquitous image, appropriated for everything from coffee mugs to editorial cartoons. For many mainstream art lovers, it is perhaps second in familiarity only to the "Mona Lisa" and is certainly among the best-known works of art still in private hands.
Three other images of "The Scream," including two which were stolen and later recovered, are in museums in Norway.
Overall, the Sotheby's auction brought in 330.6 million dollars and 80% of the lots on offer were sold. It was Sotheby's highest total ever for an Impressionist and Modern Art auction.
Picasso's "Femme assise dans un fauteuil" sold for 29.2 million, Miro's "Tete humaine" went under the hammer at 14.86 million and Dali's "Printemps necrophilique" was auctioned at 16.3 million. All those prices included sales commission.