Spain says Argentina should follow Bolivia example and pay a 'fair price' for YPF
Saturday, May 5th 2012 - 06:35 UTC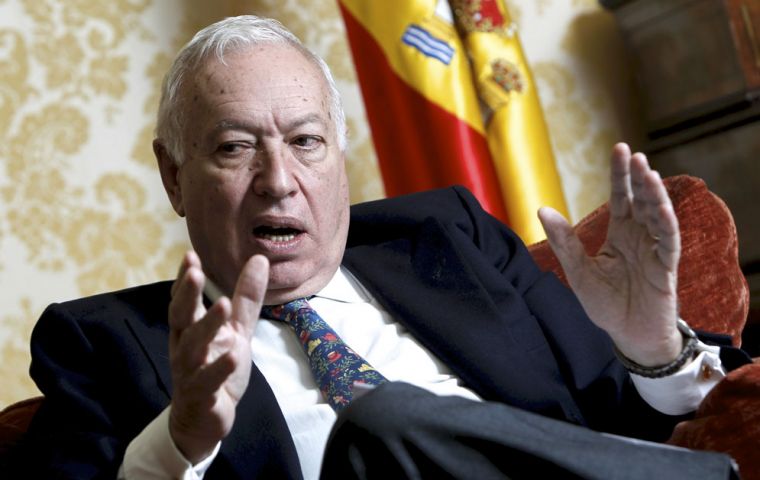 Toning down its initial strong reactions to the nationalization of Spanish controlled YPF Spain's Foreign minister Jose Manuel Garcia Margallo said that Argentina should pay a "fair price" for the oil company citing a similar case in Bolivia this week.
Bolivia plans to make Spanish firm Red Electrica's local grid into an independent company after seizing it on Tuesday May first, Minister Garcia Margallo told reporters.
"This is the path Bolivia has taken and that I would like Argentina to take. It can still make a valuation for an independent company and pay a fair price," he said.
Repsol, the Spanish company that controlled YPF until two weeks ago, says it is owed 10.5 billion dollars for its holding. Argentina has disputed this amount, accusing Repsol of covering up debts.
Red Electrica said it respected Bolivia's "sovereign decision" so long as it abided by international law and that it trusted it would receive "adequate compensation".
The Bolivian government has promised compensation in 180 days following a private consultant estimate of the value of the company and any investments Red Electrica, which controls 75% of the country's grid, could have made.
In Buenos Aires Argentina's head of the Senate's Victory Front bloc Miguel Angel Pichetto stated that "Spain needs to accept the sovereign decision made by Argentina" in reference to the YPF expropriation, which was approved by a wide majority in both houses of Congress.
The senator further considered that the promulgation of the law by the government is "an important moment for the country that will go down in history."
Pichetto added that "the measure is deeply linked to the identity of Argentines and has a very strong symbolism for the people." He went on to say that "it also has a great significance for the development and growth of the country. Petrol, fuels and gas, they are all part of the industrial process in Argentina. We wish to continue to grow to be self-sufficient."
Likewise Interior Minister Florencio Randazzo, highlighted the 'overwhelming majority' of votes in favour of the YPF expropriation bill, and recognized the "nobility and support from non-Kirchnerite politicians."
"All of the political forces who have supported the law have embraced national history, popularly linked with this company, created in 1922 by Hipólito Yrigoyen. I think they understand that this transcends to this government and that this is a State policy," Randazzo told a radio station.
He furthered praised President Cristina Fernández de Kirchner for a "decision that will affect Argentina for the next 50 years".