Controversial Malvinas/Olympics advert was aired Sunday during soccer matches
Monday, May 7th 2012 - 03:31 UTC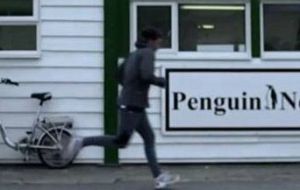 Argentine state-run television aired the controversial advert on Sunday linking the London Olympics to a dispute with Britain over the Falkland Islands, opening itself to further criticism from the International Olympic Committee.
The advert was aired at halftime of a football match between the popular Buenos Aires club Boca Juniors and Rafaela. The ad says it was released by the Argentine presidency.
The spot has run several times since the IOC denounced it on Friday and warned the games should not be used "to raise political issues." It was first aired on Wednesday.
The advert shows men's field hockey captain Fernando Zylberberg training for the games by running through the Islands' capital of Stanley. In the background is a typical British pub and other national symbols. The advert says: "To compete on English soil, we train on Argentine soil."
Several reports over the weekend, quoting unnamed government officials, said the advertisement will run several times more.
Argentina's ambassador to Britain, Alicia Castro, told an Argentine newspaper the ad was done without malice. "This is not meant to be a provocation," Castro, told the daily El Tribuno. "Nobody has had the intention to offend."
On Friday, The International Olympic Committee denounced the spot and said it had sent a letter to the Argentine Olympic Committee warning the games should not be used as a political platform.
"The Olympic Games should not be a forum to raise political issues and the IOC regrets any attempts to use the spotlight of the games for that end" the IOC said in a statement.