Brazil's Rousseff sees in Hollande an ally to counter Merkel's austerity policies
Tuesday, May 8th 2012 - 17:17 UTC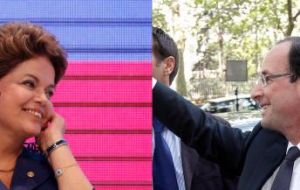 Dilma Rousseff is interested in having French elected-president Francois Holland make an official visit to Brasilia to talk about the current world situation since the Brazilian leader believes they both share positions regarding the global crisis and austerity policies.
"The Planalto (Government House) would like to take advantage of President Hollande's presence in Rio+20 environment summit and invite him on an official visit to Brasilia", according to a report in Folha de Sao Paulo.
Allegedly Rousseff would like to have Hollande as an ally in international forums such as G20 in opposing austerity policies which have their main supporter in German Chancellor Anglea Merkel.
Precisely on the congratulation message sent to the elected French president, Dilma Rousseff states that "I am certain we share positions that will allow us to work together in international forums, such as the G-20, to make changes to the recession-causing policies that prevail today and that were so unfortunate for Latin American countries in the past".
Dilma added that she followed Hollande's campaign with interest, especially his proposals to deal with the crisis through policies that boost growth, jobs, inclusion and social justice. She concluded by expressing interest in continuing cooperation between Brazil and France and expected him at the Rio+20 conference.
The drafting of the message was shared with Marco Aurelio García the Brazilian presidency foreign affairs advisor who during the previous administration of President Lula da Silva worked for the completion of a strategic alliance with France which included the purchase several conventional submarines, technology for the construction of Brazil's first nuclear powered sub and fighter jets.
The subs agreement was reached under Lula da Silva but the fighter jets' accord is still pending and according to Brazilian sources, President Rousseff delayed any decision wishing not to influence the French election or seen as supporting outgoing president Nicholas Sarkozy.