Costa cruise announces 7 new safety measures including mandatory safety drills
Tuesday, May 8th 2012 - 22:29 UTC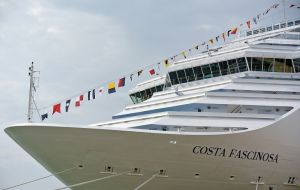 Costa Cruises announced the introduction of seven new safety measures over the weekend during a ceremony celebrating the delivery of the company's new 665 million dollars flagship.
A new real-time route monitoring system, electronic tracking of guest safety training and changes that will allow more crew members to issue orders, are among the initiatives being adopted by the company in the wake of the Costa Concordia disaster.
Under the new rules, Costa cruise guests will receive emergency training before the ship leaves port and officers in uniform must be present during safety training. "This ensures the training has proper solemnity and gives guests an opportunity to ask any questions or express concerns they might have directly with an officer," Costa said in a document outlining the new procedures.
Under Costa's new rules, guests will receive an electronic card to be scanned during safety drills. Guests who miss the initial training will be tracked electronically and invited to attend training the following day. Guests who do not attend either session will receive written safety guidelines.
Officers will be more involved in decision making under a new bridge management model. "According to the new model, the Captain maintains intervention power as required by law, but is no longer the only person who issues orders," the Costa document said.
The Concordia's captain, Francesco Schettino, remains under house arrest while he is investigated for possible criminal charges. He faces allegations of manslaughter, causing the shipwreck, abandoning ship and failing to report the accident.
Costa will also limit access to a ship's bridge during critical navigation phases, following a standard established by Cruise Lines International Association last month, and a new monitoring system will allow Costa to control the position and course of all of its ships in real time.
The cruise line's new ship, Costa Fascinosa, was delivered in Venice on Saturday, along with sister ship Costa Favolosa. Costa Fascinosa, a 665 million dollars ship that can carry up to 3,800 passengers, is the largest Italian-flagged cruise ship afloat.