Galuccio wants YPF as the leading company in rejuvenation of marginal fields
Tuesday, May 8th 2012 - 06:23 UTC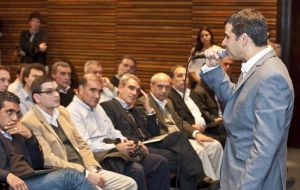 Argentina's nationalized oil and gas corporation YPF newly appointed General Manager Miguel Galuccio hosted on Monday his first official meeting addressing an auditorium of 200 workers at the Comodoro Rivadavia plant where he announced that the strategic plan of the company will be ready in the next 100 days.
"Within the next hundred days a strategic plan for the company will be ready" said Galuccio adding the plan will establish exploration and production targets for the next five years, creating a company identity and respecting jobs.
The new CEO rejoiced the fact that his first official commitment as the head of YPF was celebrated at Comodoro Rivadavia, the Patagonian locality where oil was first found in Argentina ninety years ago.
"YPF was born here (1907) and, twenty years ago, so was my carrier. You can only imagine how proud I am and what this means to me," he said.
"We want an YPF nationally-oriented, competitive, modern and capable of delivering good results to its share-holders, a leader in Argentina's energy industry development" Galuccio pointed out.
Galuccio told the audience that all workers will be involved in the plan, "because I need you all and we have a brilliant future. The company needs its own identity and we have a specific plan to become the world's leading experts in the rejuvenation of marginal fields, leader in the development of non conventional resources and exporters of professional services for development of downstream projects in Latin America"

But to achieve these goals in the five year plan "we need a new values culture founded on meritocracy, results by objectives, open communication, integrity, team work, attitude and even more important strict health, safety and environment".
"As of today every one of us who works in YPF must perform with results, in line with the pride of Argentines who have recovered our beloved company. I need all of you. I'll carry the banner but I want everybody doing his share", said the new CEO.
The ceremony and speech were aired to all YPF staff in Argentina through the internal communications system.
The former Schlumberger Ltd. executive was named the new head of the company on Friday evening by President Cristina Fernández in a ceremony held at the Government House.