New records for Chilean president Piñera: approval 26%; disapproval 66%
Tuesday, May 8th 2012 - 17:03 UTC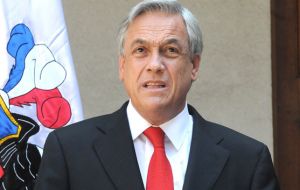 Chilean President Sebastián Piñera has reached his lowest level of citizen approval since he came to office in 2010, according to the latest Adimark poll released on Monday.
Only 26% of respondents approved of his management of the country, compared to 66% who disapproved, according to the Adimark poll for April. Overall government approval also fell to the same 26% level and disapproval grew to 67%.
Government spokesman Andrés Chadwick dismissed the poll's results and tried to spin the story in another direction. He told Cooperativa the government was doing a great job with the best effort possible, and was taking the management of the country seriously.
"If we make mistakes, and it's evident that we will, then we want to rectify them. We want to listen to the people," Chadwick said. "When the citizens see the results of our policies that benefit them, then they will have confidence in the government. This will happen sooner rather than later."
The report also found that approval of the government's economic policies also fell, notwithstanding good economic growth. Approval for government's employment policies dropped to 45% and approval for its management of the economy dropped sharply to 36%. Health also took a hit, falling by 8 points to 27%, according to the Adimark report.
National Women's Service (Sernam) Minister Carolina Schmidt and Public Works Minister Laurence Golborne were the best evaluated figures in the Piñera government, each receiving approval levels of 75%. Golborne, who gained his popularity while serving as mining minister during the 2010 rescue of 33 trapped miners, is reportedly considering a presidential bid. But no such political aspirations are on the horizon for Health Minister Jaime Mañalich whose Adimark approval rating fell from 54% in March to 43% in April.
The National Congress also fell in approval, said the Adimark poll, with confidence in the Chamber of Deputies dropping to 16 points and the Senate dropping to 17 points, both the lowest levels in two years. The Senate's fall came at the same time as press stories revealed 4.000 dollars in increased allocations for the senators' expense accounts.
Socialist Party and opposition leader Dep. Osvaldo Andrade said he was not surprised with the report and he was keen to work with the government.
"For a long time now two thirds of the population doesn't believe him (Piñera) anymore and now we see the ministers not paying attention to the people," Andrade told Cooperativa.

By Jade Hobman - The Santiago Times