Bank of England forgets stimulus and targets inflation in spite or recession
Thursday, May 10th 2012 - 20:08 UTC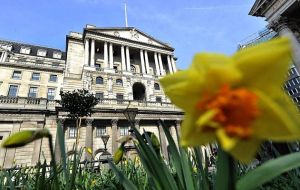 Bank of England policymakers on Thursday decided against pumping more cash into Britain's recession-hit economy, preferring to sit tight after a surprise spike in inflation.
The BoE kept its Quantitative Easing programme (QE) at £325 billion after its latest monthly policy meeting and left its main lending rate at 0.50%.
A statement issued by the central bank after its two-day meeting in London said: "The Bank of England's Monetary Policy Committee today voted to maintain the official bank rate paid on commercial bank reserves at 0.50%.
"The Committee also voted to maintain the stock of asset purchases financed by the issuance of central bank reserves at £325 billion."
Reasons for the status quo should be revealed next week when the BoE publishes its latest inflation and growth forecasts.
While analysts expected the interest rate to remain at an all-time low, they were unsure over whether the BoE would increase its stimulus after Britain returned to recession in the first quarter against a backdrop of rising inflation.
Sterling won support following Thursday's decision on stimulus driven up by perceptions that QE is ended and that the currency is a safe haven against the Euro.
But Britain is not out of the woods. Despite clawing its way out of a record-length recession in the third quarter of 2009, the economy is now back in the doldrums, hit by government austerity and debt strains in the neighbouring Euro zone.
Britain's economy shrank 0.2% in the first quarter of this year after a 0.3% drop in the fourth quarter of 2011. Recession is defined as two successive quarters of contraction.
BoE "policy was unchanged (Thursday) despite worse-than-expected first quarter GDP," HSBC said in a note to clients.
"The (bank) seems more concerned about the stubbornness of inflation and, in turn, its own credibility" ahead of its economic forecasts due Wednesday.
To help Britain exit its previous recession, caused by the global financial crisis, the Bank of England in March 2009 decided to slash its main interest rate to 0.50%, the level that has stood ever since.
At the same time it launched QE, which has seen the central bank create new cash to purchase assets such as government and corporate bonds with the aim of giving a boost to lending and economic activity.
With Britain's 12-month inflation rate rising unexpectedly in March, the BoE finds itself in a tricky position over whether to increase the amount of cash stimulus: more QE risks pushing prices even higher, according to experts.
The country's Consumer Price Index climbed to 3.5% in March from 3.4% in February, the first increase since September 2011. The BoE's main task is to use monetary policy as a tool to keep annual inflation close to a government-set target of 2.0%.