Brazilian strategy to lower value of its currency seems to be working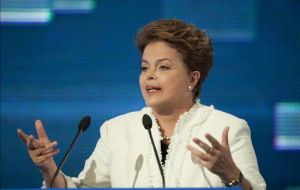 Investors pulled 1 billion dollars out of Brazil last week as Euro-zone debt fears continue to spook markets and the Brazilian government shows little sign of changing its hefty intervention policies.
For the full month of April, the country had an inflow of 6.6 billion, with revenues from trade offsetting a withdrawal of 939 million in portfolio investments. Brazil's trade surpluses have been offsetting the outflow of financial capital in recent months, leaving the country with a big inflow for the year to date.
Much of the recent weakness in emerging markets is attributed to the renewed concerns surrounding the Euro-zone's ongoing debt woes, which has helped move the dollar in the direction President Dilma Rousseff and Finance Minister Guido Mantega want, but left it unclear how big an effect government actions have had, analysts said.
April was the second consecutive month with a net outflow of financial capital, and the first three work days of May saw a surge of dollars leaving the country.
One of the reasons for the 2.6 billion outflow of portfolio investment last week was a dividend payment made by mining company Vale SA, said Alfredo Barbutti, an economist at Liquidez brokerage in Sao Paulo.
"A big part of Vale's shareholders are non-residents," he explained. "A lot of the money flowing out last week went to pay them."
Those flows, and central bank interventions to neutralize big inflows, are helping strengthen the dollar against the Real enough to calm some of the belligerent comments from the government.
The Brazilian currency had appreciated almost 10% against the greenback in the first two months of the year, and Rousseff and Mantega loudly and repeatedly announced their desire to protect the competitiveness of Brazilian exports by reversing the trend.
They backed their words up with actions, extending taxes on certain types of overseas investments, including medium-term loans.
The central bank has also helped, intervening repeatedly in markets to buy dollars and slashing its benchmark interest rate by 1.5 percentage points at the last two meetings of the monetary policy committee.
Financial markets have responded to the government's outspoken comments and interventions by selling the Brazilian currency, despite the still-high interest rates available in the country.
The central bank's benchmark rate, which was 12.5% in August, is now 9%, still much higher than in the world's developed economies.