Europe at risk of Japanese-style 'lost decade' claims Dutch central bank
Thursday, May 10th 2012 - 20:18 UTC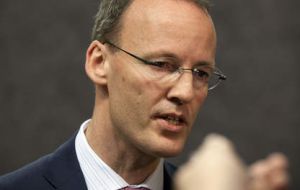 Europe is at risk of a Japanese-style "Lost Decade" of low economic growth, weak consumer spending, poor company investment and tougher borrowing conditions, the Dutch central bank said on Thursday.
The report states there were some similarities between Europe's current situation and Japan in the 1990s, when the latter suffered from a troubled financial sector and reduced private sector spending.
"Now that the risk emerges that Europe also faces a 'Lost Decade' of low economic growth, the Japanese experience offers important insights," the central bank said in its semi-annual risk report on the Dutch financial sector.
Japan's situation showed the need for the central bank to aggressively fight deflation, and let banks take credit losses quickly, the bank said, adding that fiscal stimulation did not offer a way out of low economic growth.
The bank, which is led by Klaas Knot, who is also a European Central Bank governing council member, said the risk of a double dip recession had become reality in Europe. The ECB's three-year money operations to banks had averted acute liquidity risks but problems in the Dutch banking sector and Euro zone remained.
"Especially peripheral countries are vulnerable because of weak government finances, a fragile banking sector and weak economic performance," the central bank said.
"The European banking sector is not succeeding sufficiently to regain market confidence and is too dependent on central bank funding," it said.
Weak European banks needed to reform, and some banks might need to be restructured, the bank said, adding that Dutch banks and insurers needed to raise capital buffers, for instance by holding profits or issuing new shares.