Spain in another clean-up of its financial system hoping to restore confidence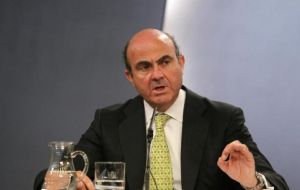 Spain told its banks on Friday to set aside another 30 billion Euros to cover potential losses on real estate and ordered an independent audit of their debts, an effort to restore confidence in a sector that is at the heart of the country's financial crisis.
After Spain's property market collapsed in 2008, banks have been saddled with bad loans and foreclosed property, estimated at around 184 billion Euros as of the end of 2011, which has weighed strongly on the economy.
The big fear, however, is that if banks start failing the government will be overwhelmed by the cost. Saving the Spanish government could prove too expensive for Europe's bailout funds, threatening the existence of the 17-country Euro currency bloc.
In Friday's announcement, Economy Minister Luis de Guindos also unveiled measures for banks to place their non-performing real estate assets into separate entities, which would then be charged with selling them at market prices.
The new money banks will have to set aside by year's end will cover loans that are not yet considered problematic but could sour if the recession proves deeper than expected.
Since a bank reform unveiled in February, the conservative government had ordered banks to set aside 54 billion Euros in provisions, the vast majority for toxic assets. The previous Socialist administration also tried twice and failed to clean up the banking sector, first by encouraging mergers and then by raising core capital requirements.
Markets seemed unimpressed with the latest effort. The yield on the benchmark 10-year government bond -- a measure of investor wariness of a country's finances -- stood at an uncomfortably high 6%. The Ibex 35 stock index was off about 1% in late trading, with bank stocks down slightly.
Guindos said the new provisioning is being ordered because there are fears in international markets that performing loans could turn sour as the economy weakens and doubts about just how large Spanish banks' liabilities are.
Spain's forecast is for the economy to contract by 1.7% this year. The EU on Friday forecast a 1.8% contraction.
The minister said banks that cannot meet the new requirements can request money from a government bailout fund. Those loans will be granted at an interest rate of nearly 10%. So the cost to the taxpayer is zero, de Guindos maintained. He expects a maximum outlay of 15 billion Euros.
Against the expectations of many, the government on Friday did not announce any loans or aid for Bankia SA, the troubled lender it nationalized this week. Bankia holds a whopping 32 billion Euros in real estate assets that are considered problematic.
Nor did de Guindos order banks to set aside more provisions for real estate assets that have already soured. This may be because the government might want to wait for the results of the audits of bank debt loads.
The new provisioning requirements are tough. Under the last bank reform plan, banks had to provision healthy, performing real estate loans at a rate of 7% of the asset amounts. That now goes up to 30%. On average, including healthy and dodgy assets, banks will now have to set aside provision equal to 45% of their book value.