UK and Argentina, main tourist generating markets for the Falklands in 2011
Friday, May 11th 2012 - 04:11 UTC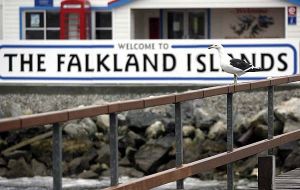 Falkland Islands visitor arrivals in 2012 by inbound overnight tourists, cruise passengers and domestic tourists are expected to total 57.000 spending around £7 million. Cruise ship passengers are forecast to make up 35.000 of the 57,000 in the 2012/13 season.
This is similar to last season (35.159) but has been revised down from a previous forecast largely due to an increased estimate of the number of cruise cancellations because of weather, health and mechanical failure reasons.
In 2011/12 there were almost 10.000 passenger arrivals lost due to cruise cancellations, over half of those by the cruise vessel Veendam.
In 2008, a massive 62.000 cruise passengers visited but this slipped steadily over the next three years. According to the analysis published in Falklands tourism statistics for the fourth quarter of 2011 (Falklands Forecast) however, a yearly growth of cruise ship passengers of 7% has been predicted for 2013/14 and 2015.
Also on an optimistic note, overall tourist arrivals to the Falklands in 2012 are expected to increase by 12% with a significant 15% increase in the number of leisure visitors mainly driven by the 30th Anniversary of the Falklands War. In total 7.430 overnight tourists are expected in 2012 spending over £4.5million.
Domestic tourism is forecast to grow in 2012, albeit at a moderate rate of 3.5% and is expected to generate 14.300 trips and £1.25 million in expenditure.
In 2011, while the UK dominated as the key generating market for all tourists and leisure tourists, visitors from Argentina were the second largest leisure market in 2011, followed by the United States and France (this figure does not include cruise passengers).
For leisure tourists Lan Chile remains the most popular route to the Islands, with 844 arrivals in 2011, compared to 221 on the RAF Airbridge and 30 using other flights.
The arrival of oil workers in the Falklands continues to grow and is driving the overall trend of increased tourist arrivals in the Falklands. According to 'Falklands Forecast': "Following UNWTO definitions of tourism, these are bona fide business tourists and contribute to the economy of the Islands". (PN)